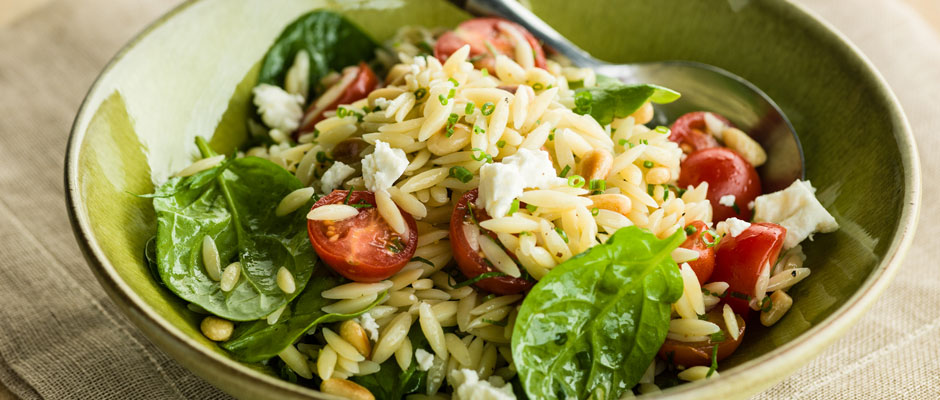 Orzo Salad with Tomatoes, Feta, and Basil Vinaigrette
Ingredients
3 cups (not packed) fresh baby spinach leaves
12 grape tomatoes, cut in half
1/2 cup toasted pine nuts
2 tablespoons thinly sliced flat-leaf parsley
1/2 cup coarsely crumbled feta cheese
2 tablespoons chopped fresh chives
2 tablespoons red wine vinegar
1 shallot, finely chopped
1 garlic clove, finely chopped
1/4 cup extra-virgin olive oil
1/4 cup thinly sliced fresh basil
Sea salt and freshly ground black pepper
Directions
Make-Ahead:
The orzo can be cooked and the vinaigrette can be made up to 6 hours ahead, covered separately and refrigerated. Let the vinaigrette and orzo stand at room temperature for 30 minutes before using.
Bring a large saucepan of salted water to a boil over high heat. Add the orzo and cook, stirring often, for about 8 minutes, or until just tender. Drain the orzo in a sieve and set aside to cool completely.
Meanwhile, to make the vinaigrette:
In a medium bowl, whisk the vinegar, shallot, and garlic. Slowly drizzle in the oil while whisking to blend well. Stir in the basil and season to taste with salt and pepper.
To assemble the salad and serve:
In a large bowl, toss the orzo, spinach, tomatoes, nuts, and parsley with enough of the vinaigrette to coat. Fold in the cheese. Season the salad to taste with salt and pepper.
Mound the salad onto the center of a large platter, sprinkle with the chives, and serve.
Other recipes you might like