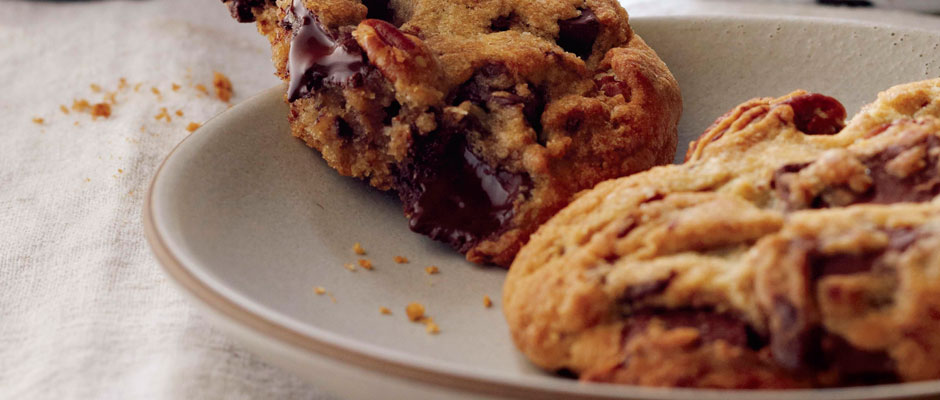 Chocolate Chunk Cookies with Pecans
These cookies should come with a warning: With oversized chocolate chunks and crunchy 
pecans, they are truly addictive. While I love 70 percent cacao chocolate for eating and some 
recipes, it tends to melt and spread too much when used in these cookies. I prefer a sweeter 
chocolate with 60 percent cacao, here,
Ingredients
1/2 pound (2 sticks) unsalted butter, at room temperature
3/4 cup packed light brown sugar
2 teaspoons pure vanilla extract
1/4 teaspoon fine sea salt
12 ounces bittersweet chocolate (60% cacao), very coarsely chopped into chunks
2 cups pecan halves, toasted
Directions
Make-Ahead:
These cookies are best eaten warm.
Position racks in the top third and center of the oven and preheat the oven to 375°F. 
Line two large (18x13x1-inch) heavy rimmed baking sheets with parchment paper.
In a small bowl, whisk the flour and baking soda together.
In a large bowl, using an electric mixer, beat the butter, granulated sugar, brown sugar, vanilla, and salt on medium-high speed for about 4 minutes, or until creamy. One at a time, add the eggs, beating well after each addition. Reduce the mixer speed to low and gradually beat in the flour mixture just until combined. Add the chocolate chunks and pecans and mix just until the pecans break up a bit.
Using about 1/3 cup dough for each cookie, drop the dough, spacing it evenly and placing only 6 cookies on each sheet, onto the prepared baking sheets. These cookies will spread, so don't place them too close together. (The shaped cookies can be frozen until firm, then stored in a freezer bag for up to 1 month. Bake the frozen cookies without thawing, but allow a few additional minutes of baking time.)
Bake the cookies, switching the positions of the sheets from top to bottom and front to back halfway through baking, for about 13 minutes, or until the edges and tops are golden brown but the centers are still soft and moist. Let the cookies cool on the baking sheets for 5 minutes. Using a metal spatula, transfer the cookies to wire racks. Repeat with the remaining dough, being sure that the baking sheets are completely cooled before adding the dough. Serve the cookies warm.
Other recipes you might like