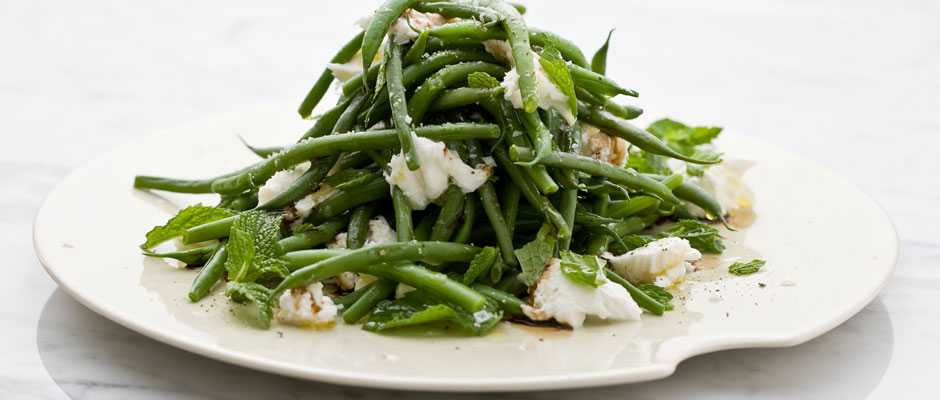 Green Beans with Mozzarella and Mint
Ingredients
12 ounces fresh thin green beans (haricot verts), ends trimmed
2 tablespoons extra-virgin olive oil
1 tablespoon finely chopped shallots
1/4 teaspoon freshly ground black pepper
4 ounces fresh mozzarella cheese
2 tablespoons coarsely torn fresh mint leaves
1 tablespoon aged balsamic vinegar
Directions
Make-Ahead:
The green beans can be cooked and cooled 8 hours ahead, covered and 
refrigerated.
Cook the green beans in a large pot of boiling salted water just until they are crisp-tender and bright green, about 2 minutes. Using a meshed spoon, transfer the green beans to a large bowl of ice water and let cool completely. Drain well and transfer the green beans to a paper towel-lined baking sheet and pat dry to remove any excess moisture.
To make the dressing and serve:
In a large bowl, whisk the oil, shallots, garlic, salt, and pepper. Add the green beans and toss to coat. 
Tear the cheese into large pieces and scatter them over the green beans. Add the mint and toss again. Mound the mixture on a platter. Drizzle with the vinegar and serve.