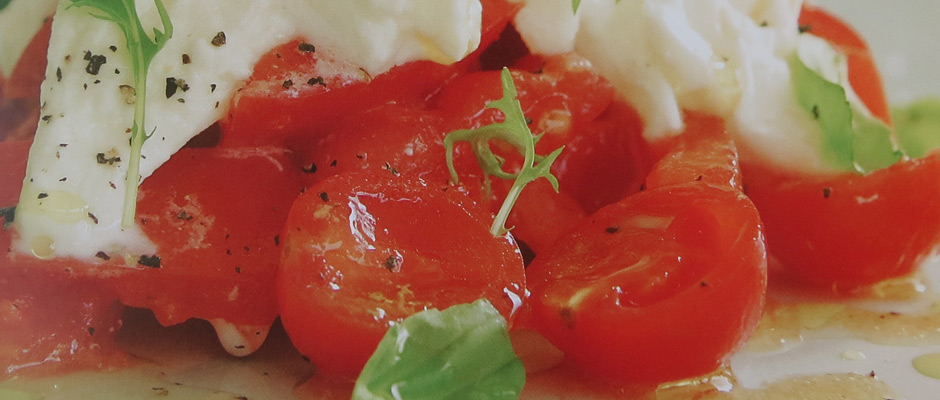 Salad of Tomato and Mozzarella
It was not until I moved to the UK and tasted mozzarella brought directly from Italy that I realized 
how amazing it can be and that there is a serious art to making it. Mozzarella should be made 
from the milk of buffalos. When you speak to a buffalo farmer he or she will talk at length about 
how their particular regime of exercise and feed results in premium quality milk. I have even had
one Italian farmer tell me that he sings to his animals. Making the cheese involves separating 
the curds and the whey and pouring water (around 140ºF) over the cheese and mounding the 
balls by hand. This may sound easy enough but believe me it is not. The cheese then needs to 
be stored in the whey, or some salted water, to keep its softness. The general rule of thumb 
when buying fresh mozzarella is the softer the better. You should also eat the cheese very fresh,
if its been in the fridge for more than 4-5 days then use this for cooking and buy some more to 
eat fresh.
Ingredients
2 tablespoons white balsamic vinegar
2 tablespoons extra-virgin olive oil
2 tablespoons torn basil leaves
4 balls buffalo mozzarella, drained
Salt and freshly ground black pepper
Directions
Coarsely chop the plum tomatoes and cherry tomatoes. In a large bowl, toss the 
chopped tomatoes and vinegar together. Add some of the olive oil and mix again with 
three-fourths of the ripped basil.
Place the tomato mixture in the center of each serving plate. Tear the mozzarella into small chunks and arrange them over the tomatoes.
Drizzle with more olive oil, garnish each with a basil sprig and a few arugula leaves, season with salt and plenty of black pepper, and serve.