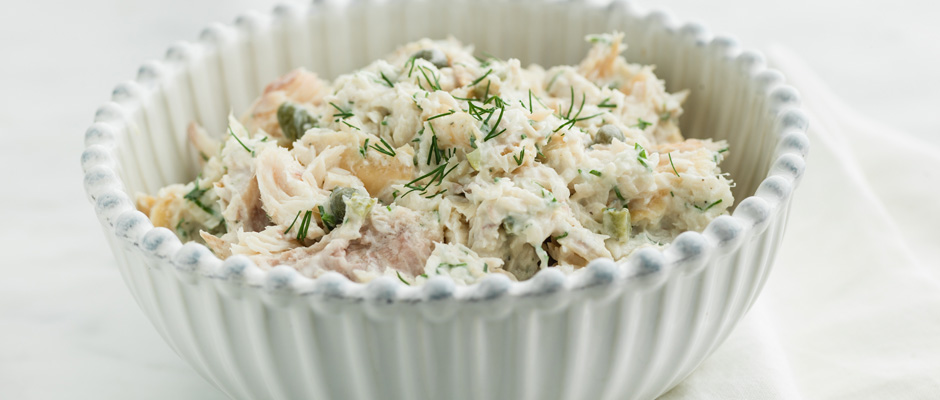 Ingredients
1 pound smoked trout, skin and pin bones removed
1/2 cup (or more) crème fraîche
1/4 cup (or more) plain yogurt
5 cornichons, finely diced
1 tablespoon capers, coarsely chopped
1 tablespoon chopped fresh dill
1 tablespoon chopped fresh flat-leaf parsley
Sea salt and freshly ground black pepper
Directions
Make-Ahead:
The crostini and spread can be made up to 8 hours ahead, covered separately. 
Refrigerate the spread and keep the crostini at room temperature. Let the spread stand at room 
temperature for 25 minutes before serving.
Using a serrated knife, cut the baguette on a very sharp diagonal into thin 3-inch-long slices. Arrange the baguette slices on a baking sheet and broil until crisp and golden brown on top but still chewy on the bottom. Set aside to cool on the baking sheet.
In a large bowl, flake the trout into large chunks.
Fold in the crème fraîche and yogurt. Fold in the cornichons, capers, dill, and parsley. Add the lemon juice to taste and season with black pepper and, if necessary, add salt, but be careful since the trout is quite salty on its own.
If the mixture is too dry, add a bit more crème fraîche and yogurt and adjust the seasoning, if necessary.
Place the spread in a serving bowl and serve with the crostini.
Other recipes you might like