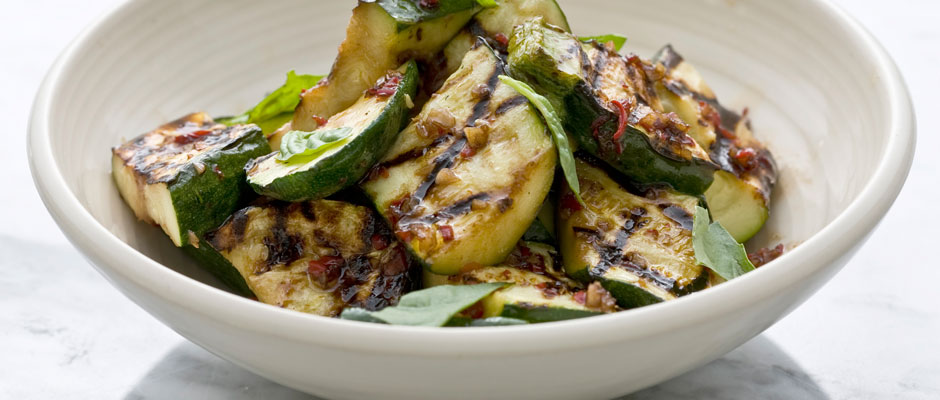 Grilled Zucchini with Basil and Balsamic Vinegar
Ingredients
6 zucchini (about 2 pounds), each cut lengthwise into 3 slices
2 1/2 tablespoons extra-virgin olive oil
1 red jalapeno chile, seeded and minced
2 garlic cloves, finely chopped
2 tablespoons balsamic vinegar
1/4 cup fresh basil leaves, torn in half
Directions
Make-Ahead:
The zucchini can be grilled 1 hour ahead, cooled, covered and kept at room 
temperature. 
Preheat the barbecue for high heat. 
Coat the zucchini with 1 1/2 tablespoons of olive oil and sprinkle with salt. Grill the zucchini until just charred but still firm, about 3 minutes per side. Transfer the grilled zucchini to a large baking sheet and set aside until cool. 
Cut the zucchini slices diagonally into 1-inch pieces.
Heat a large sauté pan over medium heat. Add the remaining 1 tablespoon of oil, and then add the chili and garlic and sauté until fragrant, about 30 seconds. Add the zucchini pieces and toss until warm and then pour in the vinegar and toss to coat. Add the basil leaves and toss.
Season to taste with salt and pepper and serve warm.
Other recipes you might like