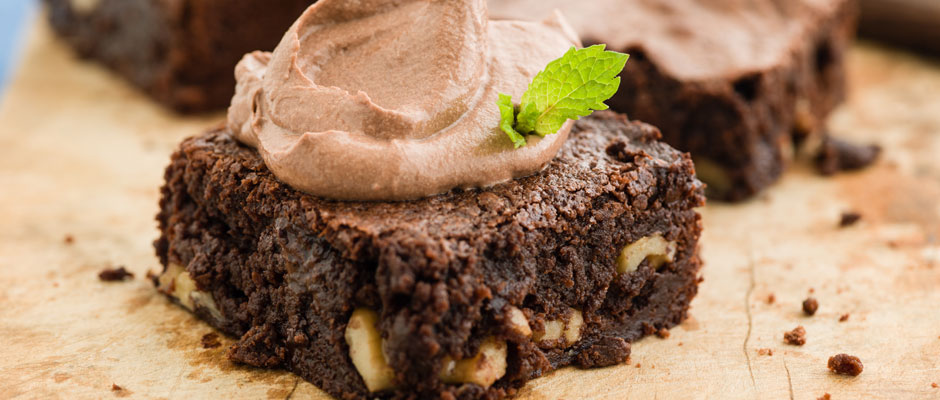 Ingredients
1 1/2 sticks (6 ounces) unsalted butter, plus more for coating foil
6 ounces unsweetened chocolate, chopped
1 teaspoon vanilla extract
3/4 cup all purpose flour
3 ounces bittersweet or semisweet chocolate, coarsely chopped
3/4 cup coarsely chopped walnuts
2 cups heavy whipping cream
1/2 cup fresh mint sprigs, plus more for garnish
1/2 cup finely chopped bittersweet or semisweet chocolate
Directions
Make-Ahead:
The brownies can be baked up to 8 hours ahead. Store airtight at room temperature. Frost the brownies just before serving.
Position a rack in the center of the oven and preheat to 350°F. Line a 9-inch square baking pan with 2-inch-high sides with foil. Butter the foil.
In a large bowl set over a medium saucepan of simmering water, stir 3/4 cup of the butter and the 6 ounces of unsweetened chocolate until melted and smooth. Cool until mixture is nearly room temperature. Whisk in the sugar, vanilla, and salt. Whisk in the eggs 1 at a time. Stir in the flour just until blended. Stir in the 3 ounces of bittersweet chocolate and the walnuts. Transfer the batter to the prepared pan.
Bake until a tester inserted into the center comes out with moist crumbs attached, about 30 minutes. Cool the brownies on a rack.
Meanwhile, to make the frosting:
In a small saucepan, combine 1/2 cup of the cream and 1/2 cup of the mint and bring to a simmer over medium-high heat, muddling and stirring often.
In a medium bowl, place the finely chopped chocolate and set a strainer over the chocolate. Pour the minted cream through the strainer and over the chocolate; discard the mint leaves. Stir until the chocolate melts and the mixture is well blended. Cool to room temperature.
In a large bowl, whip the remaining 1 1/2 cups of cream until soft peaks form. Gradually fold the chocolate mixture into the whipped cream until well blended but still light and airy.
Using the foil as an aid, lift the brownie from the pan. Remove the foil. Cut the brownies into squares.
Spoon the frosting generously atop the brownies. Garnish with fresh mint and serve.
Other recipes you might like