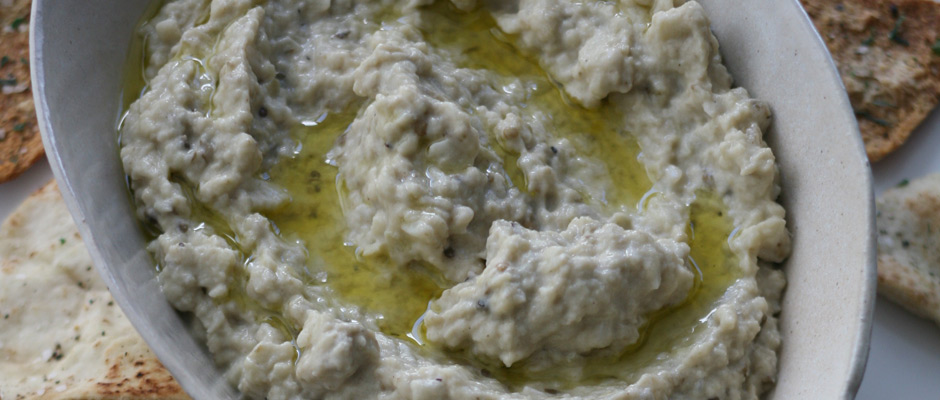 Roasted Eggplant Dip with Crispy Pita Bread
Homemade dips always taste much better than the ones you buy, and this one is no exception. 
The eggplant is so creamy and the pita so crunchy-they were made for each other. If you're 
looking for a healthful snack, this is the one for you.
Ingredients
2 eggplants (about 2 pounds total)
4 teaspoons plus 2 tablespoons extra-virgin olive oil
1 head garlic, separated into cloves
3 tablespoons chopped fresh flat leaf parsley
2 tablespoons fresh lemon juice
Salt and freshly ground black pepper
3 pita breads, split horizontally in half
2 tablespoons chopped fresh flat-leaf parsley
Salt and freshly ground black pepper
Directions
Make-Ahead:
Both the dip and chips can be made ahead of time. Store the chips airtight at 
room temperature for up to 2 days, and store the dip in an airtight container in the refrigerator 
for up to 3 days.
To prepare the eggplant dip:
Preheat the oven to 400°F and preheat a grill pan over high heat.
Prick the eggplants all over with a fork and rub the eggplants with 2 teaspoons of the oil. Place the eggplants on the hot grill and cook for 8 minutes, or until charred all over.
Meanwhile, place the garlic cloves on a sheet of foil and drizzle with 2 teaspoons of the olive oil. Fold in the edges of the foil to form a packet.
Place the grilled eggplants and the pouch of garlic on a baking sheet and bake for 45 minutes, or until the garlic is tender and golden, and the eggplants are very tender.
Remove the eggplants and garlic from the oven, and set aside to cool. Reduce the oven temperature to 375°F.
Remove and discard the skin from the eggplants and garlic. Cut the eggplants in half lengthwise and remove the seeds. Chop the eggplant pulp and garlic to form a coarse puree, and place in a large bowl. Stir in the tahini, parsley, lemon juice, and remaining 2 tablespoons olive oil. Season to taste with salt and pepper.
Cut each pita half into wedges and arrange the wedges evenly over 2 large baking sheets. Brush the pita wedges with the olive oil, and sprinkle with the parsley and with salt and pepper to taste.
Bake for 12 minutes, or until the pita wedges are crisp and golden. Let the chips cool, and serve with the eggplant dip.
Other recipes you might like