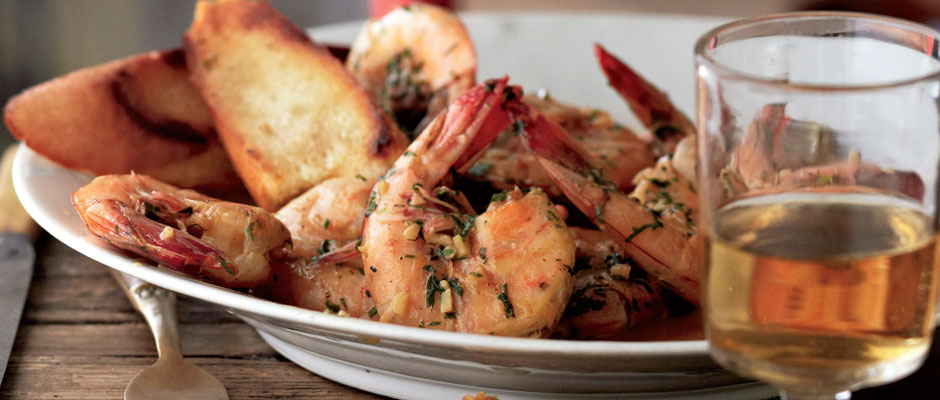 New Orleans "Barbecued" Shrimp with Amber Ale
This down-home New Orleans classic of shell-on shrimp in a spicy garlic sauce is quick and 
delectable. The dish has always been referred to as "barbecued" even though it's made on the 
stovetop in a skillet. Cooking the shrimp in the shell helps prevent overcooking and gives extra 
flavor to the sauce. You get down and dirty devouring these, so provide lemon wedges and 
paper towels for easy at-table cleanup. Have crusty bread on hand to sop up the buttery sauce.
Ingredients
2 pounds extra-large (16 to 20 count) shrimp in the shell
5 tablespoons unsalted butter
8 garlic cloves, finely chopped
1/4 teaspoon cayenne pepper
Kosher salt and freshly ground black pepper
2 tablespoons fresh lemon juice
1 tablespoon hot pepper sauce, such as Crystal or Tabasco
1 tablespoon Worcestershire sauce
3 tablespoons finely chopped fresh flat-leaf parsley
1 teaspoon chopped fresh oregano
1 teaspoon chopped fresh thyme
1/2 teaspoon chopped fresh rosemary
Sliced French bread, warmed or lightly toasted
Directions
Make-Ahead:
This dish is best served as soon as it is made.
Using a small sharp knife or small sharp kitchen shears, cut down the back of each shrimp just deep enough to expose the dark vein. Devein the shrimp under cold running water, leaving the shells intact.
Heat a large heavy skillet over medium-high heat. Add the olive oil, then add 2 tablespoons of the butter and swirl to melt it. Add the garlic, sprinkle with the cayenne pepper, and season with 1 teaspoon salt and 1/2 teaspoon pepper. Cook for about 1 minute, or just until the garlic is tender. Add the shrimp and toss to coat well with the butter mixture. Add the ale, lemon juice, hot sauce, and Worcestershire sauce and simmer for about 2 minutes, or until the shrimp are almost cooked through, turning the shrimp after 1 minute.
Add the remaining 3 tablespoons butter, the parsley, oregano, thyme, and rosemary and simmer gently for about 1 minute, or until the butter melts and the shrimp are just cookedthrough. Season to taste with salt and pepper.
Transfer the shrimp and sauce to four wide shallow bowls. Serve with the bread to sop up the sauce.