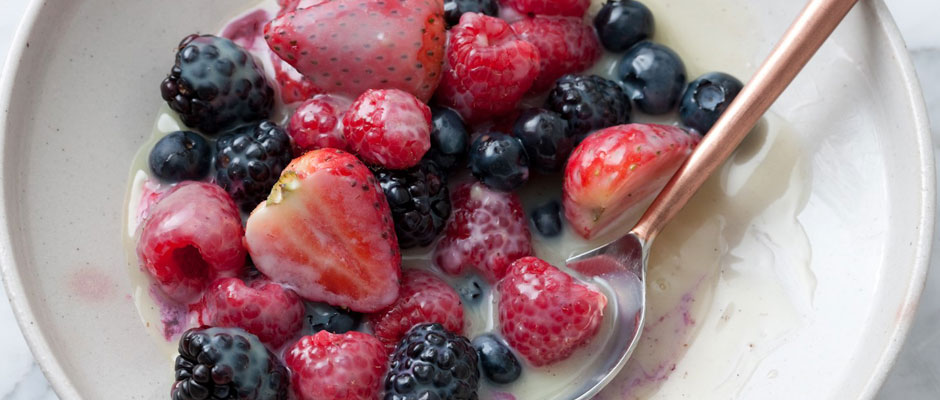 Frozen Berries with Hot White Chocolate Sauce
The ultimate contrast of temperatures - frozen berries (I suggest buying fresh berries and freezing them yourself for the most delicious result) and velvety hot white chocolate sauce, that has been melted down over the stovetop. The sauce can be made ahead of time and the berries can be frozen ahead too, so if you hardly want to lift a finger on the day, you don't have to. Plus, sometimes all you want after a big cookout, is a little plate of chocolatey berries - I know I do!
Ingredients
6 ounces fresh blackberries
6 ounces fresh blueberries
6 ounces fresh raspberries
4 fresh strawberries, halved lengthwise
8 ounces heavy whipping cream
1 vanilla bean, split lengthwise
8 ounces good-quality white chocolate, finely chopped
Directions
Make-Ahead:
The berries can be frozen 1 day ahead. The white chocolate sauce can be made 1 day ahead, cooled, covered, and refrigerated. Rewarm the sauce over low heat before using.
Arrange all the berries in a single layer on a baking sheet, making sure they are well spaced apart. Cover with plastic wrap and freeze for 2 hours, or until the berries are frozen.
To make the white chocolate sauce:
Meanwhile, place the cream in a medium heavy saucepan. Using a small sharp knife, scrape the seeds from the vanilla bean into the cream. Add the bean to the cream. Bring the cream to just below simmering over medium heat.
Place the chocolate in a bowl and pour the hot cream mixture over the chocolate. Discard the vanilla bean. Let stand for 5 minutes to allow the chocolate to melt slightly, then stir the cream mixture until the chocolate has melted completely and the sauce is smooth.
Arrange the berries on a serving platter or in individual bowls and pour the hot sauce over the frozen berries. Serve immediately.
Other recipes you might like