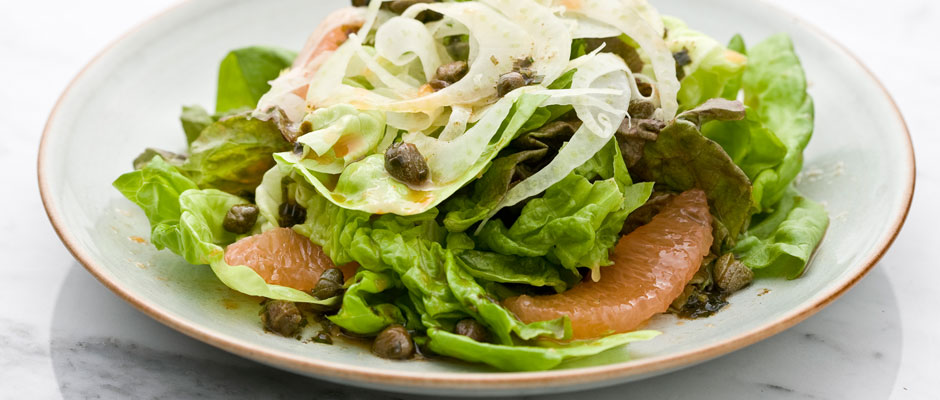 Fennel and Grapefruit Salad
Ingredients
1 1/4 cups (about) freshly squeezed ruby grapefruit juice
1 small head butter lettuce, torn into bite-size pieces
1/2 head oak lettuce or red leaf lettuce, torn into bite-size pieces
1 small fennel bulb, very thinly sliced on a mandoline
7 tablespoons unsalted butter
1 tablespoon drained extra-fine capers
2 teaspoons chopped fresh tarragon
Salt and freshly ground black pepper
Directions
Make-Ahead:
The grapefruit segments and reduction can be made up to 8 hours ahead, 
covered separately and refrigerated. Bring the reduction to room temperature before using.
To prepare the grapefruit:
Remove the peel and white pith from the grapefruits. Working over a large bowl to catch the juices and using a small sharp knife, cut the grapefruits between the membranes to release the segments into the bowl. Squeeze the membranes into the bowl to extract as much liquid as possible.
Strain the grapefruit juice into a measuring cup and set the grapefruit segments aside. You should have about 1/2 cup of grapefruit juice. Add enough grapefruit juice to the accumulated grapefruit juice to equal 1 3/4 cups of juice total. 
In a small heavy saucepan, simmer 1 1/2 cups of the juice over medium-high heat for about 12 minutes, or until it is reduced to 1/4 cup and has a thick syrup-like consistency. Set the grapefruit reduction syrup aside.
In a large bowl, toss the lettuce leaves, fennel slices, and reserved grapefruit segments. Divide the salad among 4 plates.
In a medium heavy saucepan, melt the butter over medium heat, swirling the pan occasionally, for about 2 minutes, or until it is a nutty brown. Add the capers, tarragon, and remaining 1/4 cup of grapefruit juice. Season the sauce to taste with salt and pepper. 
Drizzle the sauce over the salads, then drizzle the grapefruit reduction syrup over the salads and serve.