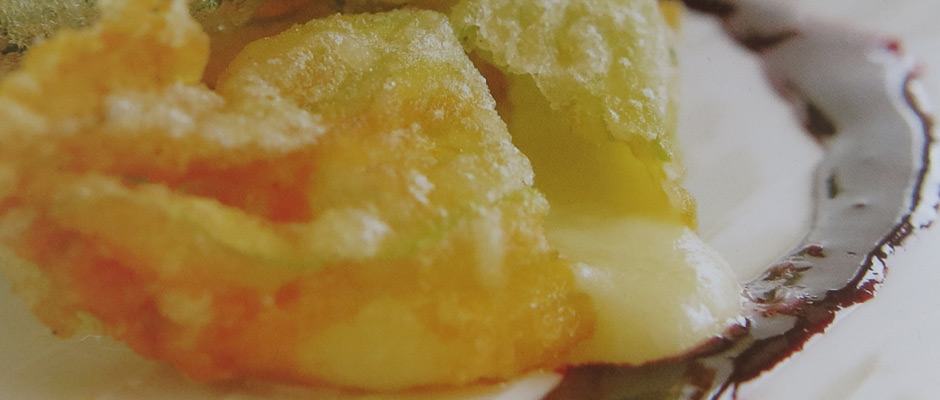 Deep-Fried Zucchini Flowers Stuffed with Taleggio and Basil
Everybody loved the classic dish deep-fried camembert and cranberry sauce. The reason this 
dish works so well is the same reason that the old one did - it's the combination of melted 
cheese with a sweet yet sharp jam sauce.
Ingredients
Blackberry Balsamic Reduction:
2 pints fresh blackberries
2 tablespoons superfine sugar
1 1/2 cups all purpose flour, plus extra for dusting
1 1/4 cups ice cold water, with 4 ice cubes
6 ounces Taleggio cheese, cut into 12 small squares
Canola oil, for deep-frying
Salt and freshly ground black pepper
Directions
Make-Ahead:
The blackberry balsamic reduction can be made up to 1 day ahead, cooled, 
covered, and refrigerated. Gently rewarm the reduction over low heat just until warm before 
serving.
To make the blackberry balsamic reduction:
Heat a medium saucepan over medium-high heat. Add the blackberries, balsamic vinegar, and sugar and cook for 10 to 15 minutes. Remove the pan from the heat and push the mixture through a fine sieve. Reserve the juice and discard the pulp.
Meanwhile, to prepare the fried zucchini flowers:
Fill a large frying pan or wok about halfway with the oil and heat the oil over medium heat to 375°F.
Combine the water and ice in a measuring cup.
Place 1 1/2 cups of flour in a large bowl and gradually pour in the ice water, mixing constantly until moistened and a few lumps remain in the batter. Be careful not to overwork the batter because the less the batter is mixed, the crispier the coating will be.
Wrap each piece of cheese with a basil leaf. Place 1 wrapped piece of cheese into each zucchini blossom and gently twist the blossoms at the top to enclose the cheese and basil. Dust the stuffed blossoms with some flour. 
Working in batches, dip the blossoms into the batter then deep fry them in the oil for 2 to 3 minutes, turning and submerging them with a slotted metal spoon so that they cook evenly and become very pale golden and crisp all over.
Using the slotted spoon, transfer the fried blossoms to paper towels to drain the excess oil. Season with salt and pepper.
Arrange the fried blossoms on a platter. Drizzle with some of the blackberry reduction. Pour any remaining blackberry reduction in a small bowl and serve alongside the zucchini.