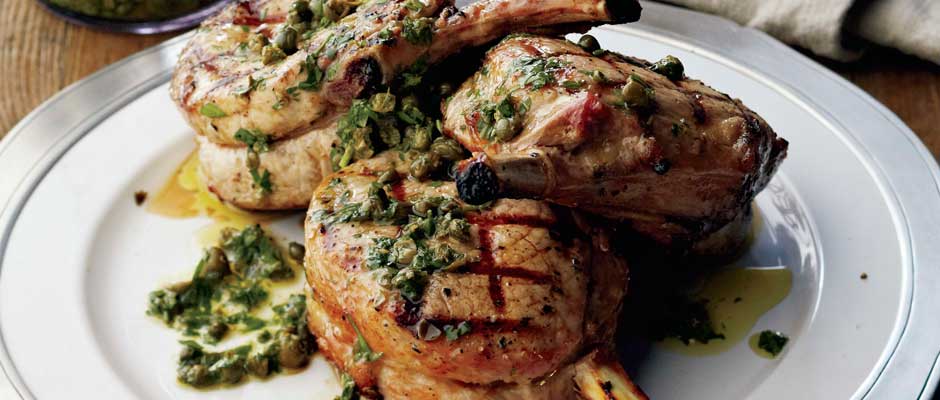 Grilled Pork Chops and Vegetable Gratin with Caper-Parsley Vinaigrette
This gratin was a specialty of my gran, who used to make it to serve with her pork chops. I've
revved it up with a caper vinaigrette. Note that the caper brine acts as the vinegar here, so taste 
the dressing to be sure that it is sharp enough and add more brine if needed.
Ingredients
Caper-Parsley Vinaigrette:
1/4 cup nonpareil capers, with their brine
1/4 cup extra-virgin olive oil
2 tablespoons coarsely chopped fresh flat-leaf parsley
Kosher salt and freshly ground black pepper
1 yellow onion, cut into 1/3-inch-thick rounds
3 zucchini, halved lengthwise
Kosher salt and freshly ground black pepper
8 ounces cherry tomatoes, halved
4 center-cut pork loin chops (each about 8 ounces and 3/4 inch thick, frenched if desired)
1 cup freshly grated Parmesan cheese (about 4 ounces)
Directions
Make-Ahead:
The vinaigrette can be made up to 4 hours ahead, covered and refrigerated. Let 
the vinaigrette stand at room temperature for 15 minutes and rewhisk before using. The 
vegetables can be grilled up to 2 hours ahead, cooled, covered, and refrigerated.
Prepare an outdoor grill for direct cooking over high heat. Position the broiler rack about 
6 inches from the heat source and preheat the broiler.
In a small bowl, mix the capers, their brine, olive oil, and parsley with a fork to combine. Season to taste with salt and pepper.
Coat the onions and zucchini with 2 tablespoons of the olive oil and season with salt andpepper. Grill the onions and zucchini for about 2 to 3 minutes per side, or until seared with grill marks and just tender. Remove from the grill and transfer to a cutting board.
Cut the zucchini diagonally in half. Very coarsely chop the onions. Toss the zucchini and onions with the cherry tomatoes in a 1 1/2- to 2-quart flameproof baking dish. Set aside at room temperature.
Pat the pork dry with paper towels. Coat with the remaining 1 tablespoon oil and season with salt and pepper. Grill the pork for about 3 minutes per side, or until seared golden brown and barely pink when pierced at the bone with the tip of a small sharp knife. Transfer to a platter and cover loosely with aluminum foil.
Sprinkle the Parmesan cheese generously over the vegetables. Broil, watching closely, for about 5 minutes, or until the Parmesan cheese has melted and is pale golden.
Divide the vegetables among four dinner plates and top each with a pork chop. Stir the vinaigrette, drizzle over the chops, and serve.