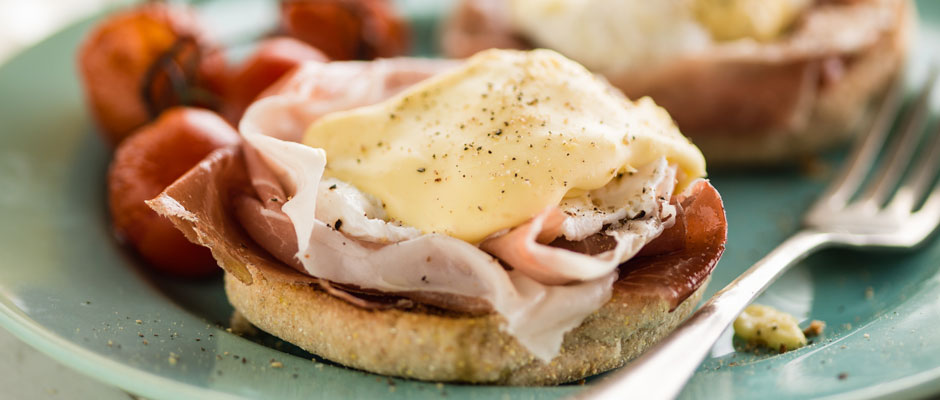 Ingredients
1 tablespoon (or more) fresh lemon juice
1 cup clarified butter, warm
16 cherry tomatoes on the vine
1/4 cup white wine vinegar
2 English muffins, cut in half, toasted
Freshly ground black pepper
Directions
Make-Ahead:
The poached eggs can be made up to 1 hour ahead. Place the poached eggs in cold water, cover, and let stand at room temperature. Using a slotted spoon, carefully submerge the poached eggs into a frying pan of gently simmering vinegar water and rewarm the eggs for about 30 seconds. Drain before serving. 
To make the hollandaise sauce:
In a large bowl set over a large deep saucepan of simmering water, whisk the yolks and 1 tablespoon of the lemon juice together until light and fluffy, making sure that they do not get too hot, about 4 minutes. When the whisk is lifted, the mixture should be thick enough to form a figure 8 when drizzled. Remove the bowl from the saucepan. Reserve the saucepan of water.
Once the yolks are fluffy and have a light lemon color, slowly drizzle in the warm clarified butter while whisking constantly to form a thick, creamy sauce. Do not add the butter too fast or the mixture will split.
Once all the butter has been incorporated, season the hollandaise sauce to taste with salt, cayenne pepper, and more lemon juice, if desired. Thin the sauce with warm water if it becomes too thick. Keep covered in a warm place until serving.
Preheat the oven to 400°F.
Place the tomatoes on a baking sheet and drizzle with the olive oil. Bake until the tomatoes' skins blister, about 7 minutes. Remove from the oven and keep warm.
Meanwhile, return the reserved saucepan of water to a simmer over medium-high heat. Stir in the vinegar and a pinch of salt.
Crack 1 egg into a small bowl or cup and then gently transfer the egg to the simmering water. Repeat with the remaining 3 eggs. Reduce the heat to medium so that the water simmers gently. Poach the eggs until the whites are set but the yolks are still creamy, about 3 minutes. Using a slotted spoon, gently remove the eggs from the simmering water and set them on a paper towel or on an end piece of bread to absorb the excess water.
Arrange the toasted English muffins cut side up on plates. Loosely fold the prosciutto slices and set them atop the English muffins. Top each with 1 poached egg. Spoon some hollandaise sauce over the eggs. Sprinkle with freshly ground black pepper. Serve the roasted tomatoes alongside and enjoy.