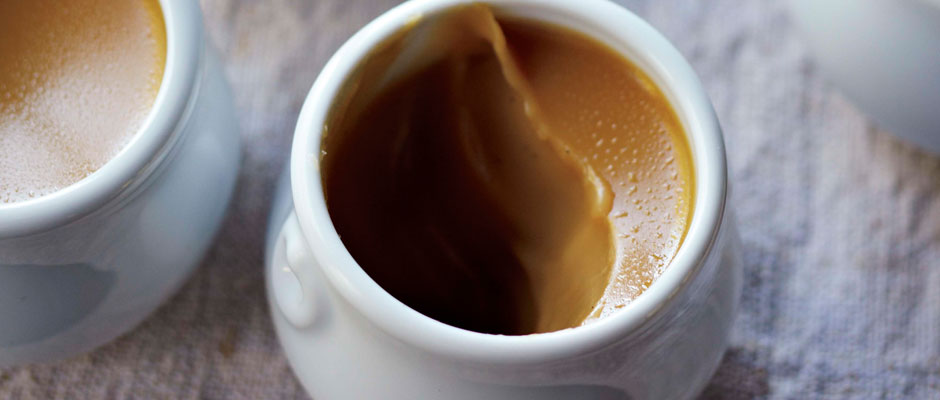 Salted Caramel Pots De Creme
Pots de crème are little baked custards with a fancy name. A pinch of salt in these custards 
heightens the caramel flavor. Cover the baking pan of custard cups with aluminum foil; it makes 
for the most luxuriously smooth pots de creme you'll ever have.
Ingredients
4 tablespoons (½ stick) unsalted butter
3/4 cup packed light brown sugar
1/2 vanilla bean, split lengthwise
Flaky sea salt, such as Maldon, for garnish
Directions
Make-Ahead:
The pots de crème can be refrigerated for up to 2 days.
Position a rack in the center of the oven and preheat the oven to 325°F. Place eight 
1/2-cup (4-ounce) ovenproof cups, custard cups, or ramekins in a large baking pan.
In a large heavy saucepan, melt the butter over medium heat. Whisk in the brown sugar and kosher salt. Using the tip of a small sharp knife, scrape the vanilla seeds from the bean, add to the butter mixture, and drop in the bean too. Stir for about 5 minutes, or until the mixture has the texture of thick sand and has taken on a nutty, caramel fragrance.
Reduce the heat to medium-low and gradually whisk in the cream. The mixture will bubble vigorously and will seize when the cream is added. Whisk for about 5 minutes, oruntil the hardened sugar bits dissolve and the mixture begins to boil. Remove the pan from the heat and whisk in the milk.
In a large bowl, stir the egg yolks to blend. Gradually whisk in the warm caramel mixture.Strain the custard through a fine-mesh sieve into a 4-cup liquid measuring cup or a bowl with a spout. Pour the custard into the cups, dividing it equally. Cover the pan with aluminum foil, leaving one corner uncovered. Place the pan in the oven and carefully pour enough hot water into the pan to come halfway up the sides of the cups, then cover the open corner with the foil. Bake the custards for about 50 minutes, or until they are just set around the edges but still jiggle slightly when the cups are gently shaken. (Be very careful of escaping steam when you uncover the pan.)
Remove the cups from the pan and transfer to a wire rack to cool, about 1 hour. Cover each cup with plastic wrap and refrigerate until chilled, at least 4 hours, or up to 2 days.
Sprinkle a pinch of sea salt over each pot de crème and serve chilled.
Other recipes you might like