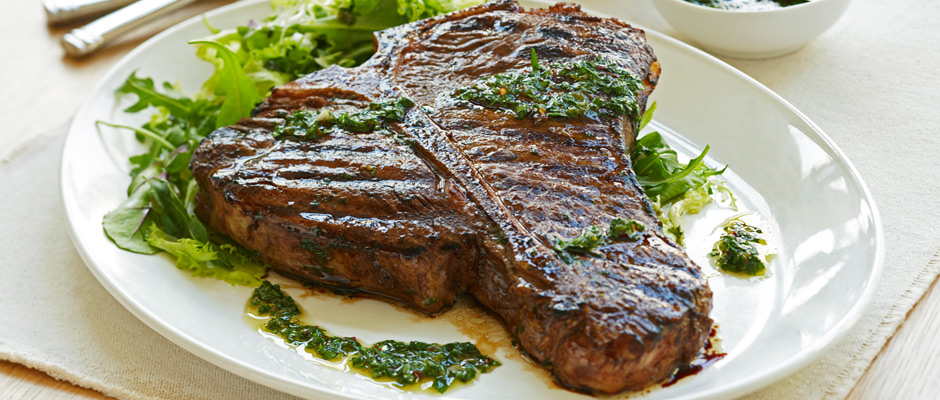 Grilled T-Bone Steaks with Chimichurri Sauce
T-bone steaks are a real hero piece of meat because you get two tasty cuts in one—the tenderloin on one side of the bone and strip loin on the other. Serve for dinner or thinly slice and make killer steak sangas!
Ingredients
1/4 cup fresh cilantro leaves
1/4 cup fresh flat-leaf parsley leaves
1 tablespoon fresh thyme leaves
1/2 tablespoon fresh oregano leaves
1 tablespoon crushed red pepper flakes
2 tablespoons red wine vinegar
Kosher salt and freshly ground black pepper
2 (14- to 16-ounces each) Amana T-bone steaks
Directions
Make-Ahead:
The chimichurri sauce can be made up to 8 hours ahead, covered, and refrigerated; bring it to room temperature before serving.
To make the chimichurri sauce:
In a mortar and pestle or food processor, mash or mince the garlic.
Add the cilantro, parsley, thyme, and oregano and continue mashing until the herbs are coarsely ground. Mash in the red pepper flakes, then the lemon zest and vinegar.
Slowly drizzle in the oil while mixing. Season the chimichurri sauce to taste with salt and pepper.
Prepare a barbecue for medium-high heat. Sprinkle the steaks with salt and pepper.
Set the steaks, fat-side down, on the grill. Grill for about 4 minutes, or until the fat is rendered and golden brown.
Lay the steaks, cut-side down, on the grill and cook to your desired doneness, about 4 minutes per side for medium-rare doneness.
Transfer the steaks to plates and let them rest for about 4 minutes.
Spoon the chimichurri sauce over and around the steaks and serve.