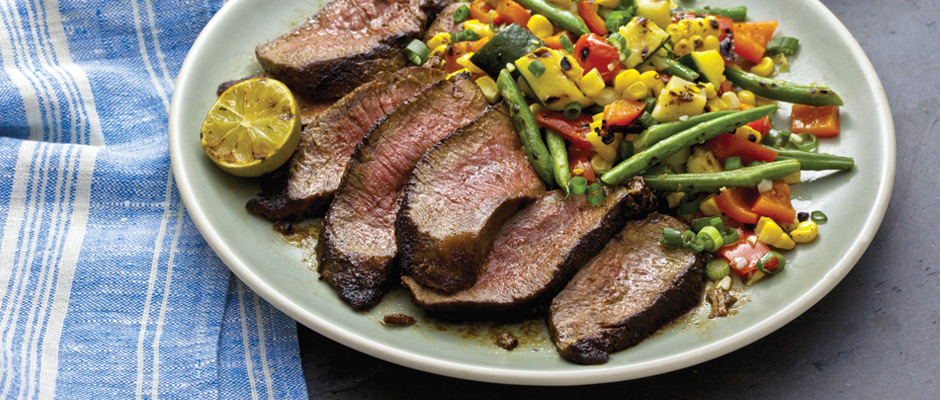 Grilled Chili-Rubbed Steaks with Summer Succotash
Ingredients
1 tablespoon chili powder
2 teaspoons garlic powder
1 1/2 teaspoons kosher salt
1 teaspoon freshly ground black pepper
Two 16-ounce boneless top sirloin steaks
1 1/2 tablespoons extra-virgin olive oil
3 ears fresh corn, husked
2 small zucchini, quartered lengthwise
4 ounces green beans, trimmed
1 red bell pepper, quartered, seeded
3 tablespoons extra-virgin olive oil, divided
Kosher salt and freshly ground black pepper
2 tablespoons fresh lime juice
3 green onions, thinly sliced
Directions
Make-Ahead:
The steaks can marinate up to 1 day, covered and refrigerated.
In a small bowl, mix the chili powder, cumin, garlic powder, salt, and pepper to blend. Generously sprinkle 4 teaspoons of the spice mixture all over each steak; reserve any remaining spice mixture for another use. Cover the steaks and refrigerate for at least 2 hours.
Prepare the barbecue for medium-high heat. Drizzle the oil over the steaks and grill until they are brown on both sides and cooked to the desired doneness, about 4 minutes per side for medium-rare. Transfer the steaks to a carving board and let rest for 5 minutes. 
Meanwhile, to make the succotash:
Lay the corn, zucchini, green beans, and bell pepper on a baking sheet and drizzle with 2 tablespoons of the oil. Turn to coat the vegetables with the oil and sprinkle with salt and pepper. 
Grill the corn for 10 minutes, turning occasionally, or until the corn kernels begin to char in spots. Grill the zucchini, green beans, and bell pepper until charred in spots and crisp-tender, about 2 minutes for the green beans and 5 minutes for the zucchini and bell pepper. 
Cut the corn kernels off the cob; discard the cob and transfer the kernels to a large bowl. Cut the zucchini, green beans, and bell pepper into bite-size pieces and add to the bowl with the corn. 
In a small bowl, whisk the lime juice and garlic to blend. Whisk in the remaining 1 tablespoon of oil. Drizzle over the vegetables and toss to coat. Toss in the green onions. Season the succotash to taste with salt and pepper.
Mound the succotash on plates. Cut the steaks crosswise into thin slices. Fan the steak slices around the succotash and serve with the lime wedges.