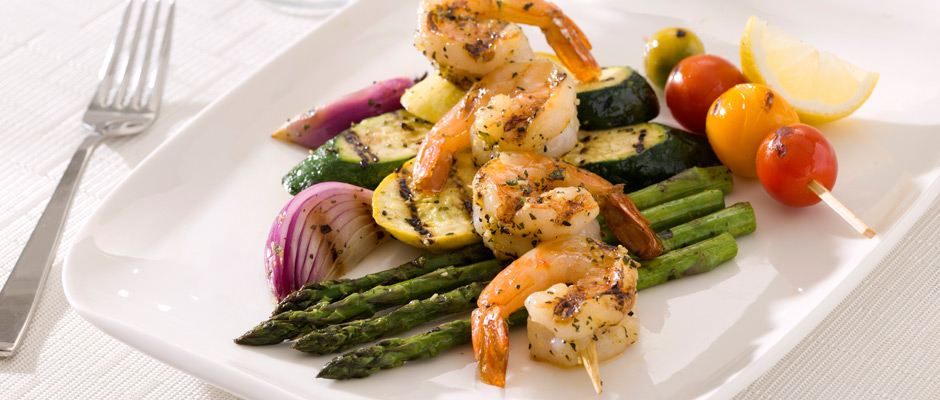 Barbecued Prawns and Mixed Vegetables with Lemon Zest, Garlic, and Fresh Herbs
Ingredients
4 teaspoons finely grated lemon zest (from about 4 lemons)
2 teaspoons chopped fresh oregano or 1 teaspoon dried oregano
1 teaspoon chopped fresh rosemary
1/2 teaspoon kosher salt, plus more to taste
1/2 cup olive oil, plus more to brush grill rack
Freshly ground black pepper
1 pound uncooked extra-large shrimp (26 to 30 per pound) or colossal shrimp (about 15 per pound), peeled and deveined
3 zucchini (12 ounces total), cut on sharp diagonal into 3/4-inch-thick slices
2 yellow squash (8 ounces total), cut on sharp diagonal into 3/4-inch-thick slices
1 pound asparagus, ends trimmed
1 small red onion, cut into 8 wedges
8 ounces assorted heirloom cherry tomatoes
2 lemons, cut into wedges
Directions
Make-Ahead:
The shrimp can marinate for up to 1 day, covered and refrigerated. Cover and 
refrigerate the remaining marinade and return it to room temperature before grilling.
In a small bowl, mix the garlic, lemon zest, oregano, rosemary, 1/2 teaspoon of salt, and 1/2 cup of the oil. Season the marinade to taste with black pepper.
In a medium bowl, toss the shrimp with 3 tablespoons of the marinade to coat. Cover and refrigerate for at least 1 hour.
To grill the shrimp and vegetables:
Prepare the barbecue for medium-high heat.
Thread the shrimp onto flat metal skewers, spacing the shrimp apart so they cook evenly.
In a large bowl, gently toss the zucchini, squash, asparagus, and onions with 3 tablespoons of the remaining marinade to coat. Thread the tomatoes onto additional flat metal skewers.
Brush the grill rack with oil. Grill the zucchini, squash, and onions until golden brown grill marks form and the vegetables are crisp-tender, about 10 minutes. Grill the tomatoes until they begin to burst open and caramelize, about 10 minutes.
Grill the asparagus until grill marks form and the asparagus is crisp-tender, about 4 minutes. While the vegetables grill, brush some of the remaining marinade over them and turn the vegetables as needed. Transfer the vegetables to a platter and tent with foil to keep warm.
Grill the shrimp, brushing them with the remaining marinade, until they are just cooked through and pink, about 2 minutes per side for extra-large shrimp or 3 minutes per side for colossal shrimp. Squeeze the juice from 1 lemon wedge over the shrimp on grill.
Transfer the shrimp to the platter with the vegetables and serve with the remaining lemon wedges.