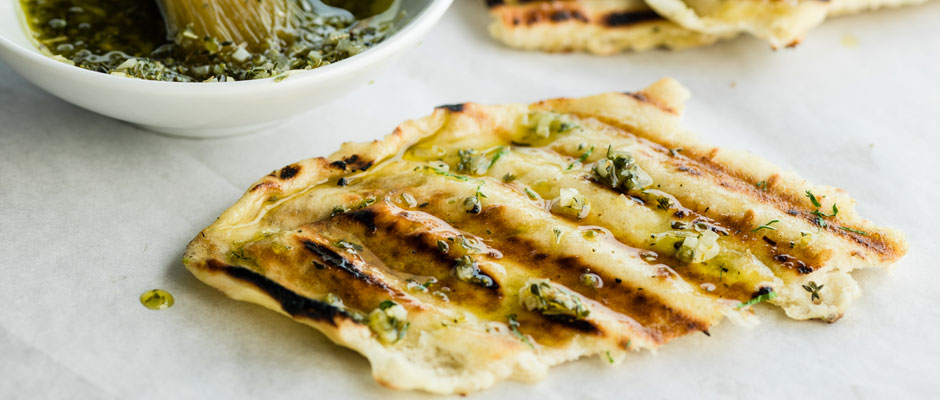 Grilled Garlic and Herb Flatbread
Ingredients
1 cup warm water (110° to 115°F)
1/4 ounce active dry yeast
3 cups all purpose flour, plus more for dusting
1 tablespoon extra-virgin olive oil, plus more for brushing
2 tablespoons thinly sliced fresh flat-leaf parsley
3/4 cup extra-virgin olive oil
1 garlic clove, finely chopped
1 shallot, finely chopped
1 tablespoon coarsely chopped fresh thyme
1 tablespoon dried oregano
Sea salt and freshly ground black pepper
Directions
Make-Ahead:
The infused oil can be made 8 hours ahead, covered and stored at room 
temperature.
In a small bowl, stir the warm water, yeast, and honey to blend. Set the mixture aside at 
room temperature for about 5 minutes, or until the yeast is completely dissolved.
In a large bowl, mix the flour and salt. Form a well in the center and add the yeast mixture and 1 tablespoon of the oil to the well. Gradually mix the wet ingredients into the flour mixture until all ingredients are fully blended. Transfer the dough to a floured work surface and knead the dough for 5 to 8 minutes, or until the dough is smooth but firm.
Oil the bowl and return the dough to the bowl. Cover with a warm damp cloth and set in a warm spot for about 45 minutes, or until the dough has nearly doubled in size.
Divide the dough into 3 balls (about 8 ounces each) and pull the sides of each ball down and tuck them under. Roll each dough ball under your hand until the top is smooth and the dough balls have regained a slight firmness.
Place the dough balls onto an oiled baking sheet and rub the dough balls lightly with oil. Cover with a warm damp cloth and let rise in a warm spot for about 20 minutes.
Meanwhile, to prepare the infused oil:
In a small saucepan, combine all the ingredients and heat the mixture over low heat untilfragrant, about 10 minutes. Remove the saucepan from the heat and season the mixture to taste with salt and pepper.
To grill and serve the flatbreads:
Prepare a barbecue for medium-high heat.
Using a rolling pin, roll each dough ball out on a floured work surface into thin ovals 
about 1/4 inch thick (the shape does not have to be perfect). 
Lightly brush both sides of the flatbreads with the infused oil and grill for about 30 
seconds to 1 minute on each side, or until golden brown with grill marks. Set the breads 
aside to cool slightly.
Tear the breads into large pieces, and then brush the pieces with more infused oil. Sprinkle with the parsley and serve warm.