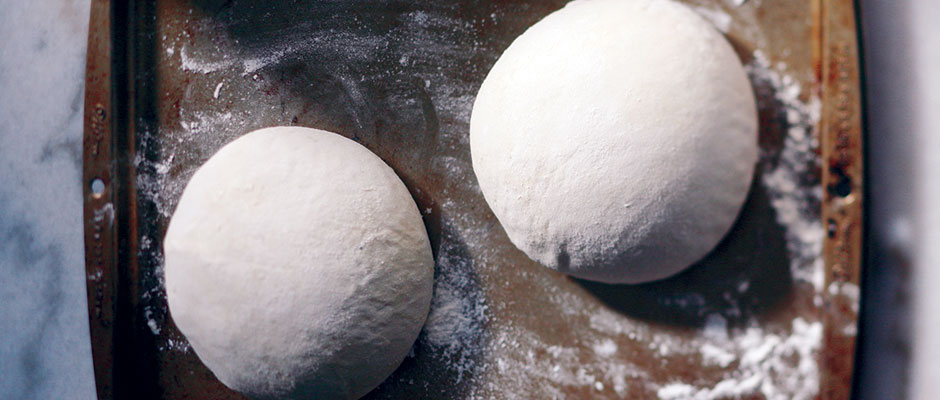 Homemade Pizza Dough
Pizza dough is fun to make at home, especially with kids, who love to check on the progress of 
the magically rising dough. The dough is easily made and kneaded in a food processor, but I 
also give instructions for a homemade version.
Ingredients
1 1/4 cups lukewarm water (110° to 115°F)
1 packet (2 1/4 teaspoons) active dry yeast
3 cups unbleached all purpose flour, plus more for dusting
Directions
Make-Ahead:
The pizza dough can be made up to 1 day ahead. If making the dough ahead, 
refrigerate the dough to allow it to double in volume slowly, rather than rise quickly at room 
temperature.
In a small bowl or a 2-cup measuring cup whisk the warm water, honey, and yeast to 
blend. Set aside for about 5 minutes, or until foamy. Stir to dissolve the yeast.
In a food processor, pulse the flour and salt to combine. With the machine running, pour 
in the yeast mixture and olive oil and process until the dough forms a ball. Transfer the 
dough to a work surface and knead for about 3 minutes, or until it is smooth and elastic. 
Do not add too much flour. The dough will be tacky but should release cleanly from your 
hands.
Divide the dough in half and gently form each half into a ball. Place on a floured rimmed baking sheet and dust the tops with flour. Cover with plastic wrap. Let stand in a warm, draft-free place for about 45 minutes, or until the dough doubles in volume.