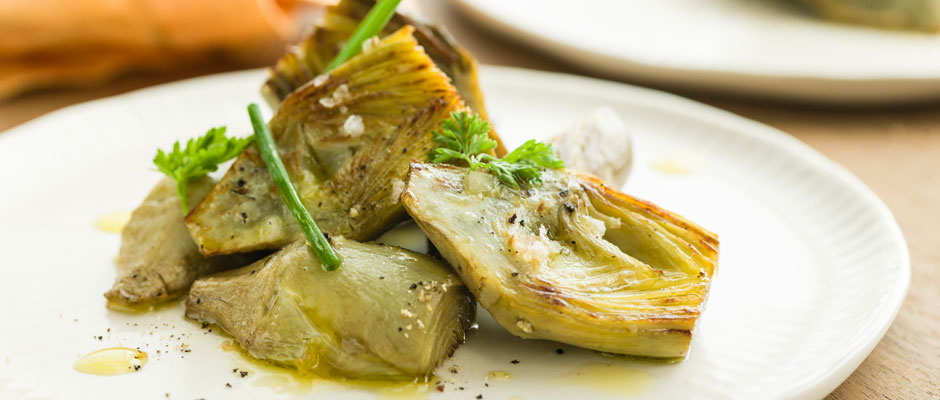 Braised Artichokes with Lemon Vinaigrette
Ingredients
20 baby artichokes, peeled, cleaned to the hearts
Finely grated zest and juice of 2 lemons
1 teaspoon black peppercorns
1/2 bunch fresh flat-leaf parsley, stems and leaves
1 teaspoon chopped shallot
3 teaspoons extra-virgin olive oil
Directions
Make-Ahead:
The artichokes can be cooked and the vinaigrette can be made up to 1 day ahead, covered separately and refrigerated.
To prepare the artichokes:
Into a large sauce pan, place the artichokes and all the remaining ingredients. Add enough water to cover and season the water to taste with salt. Place the pot over high heat until the liquid comes to a gentle simmer, then reduce heat to low and continue simmering gently for 25 to 30 minutes or until the artichokes are tender.
Remove the pot from the heat and let the mixture cool for a few minutes before removing the artichokes.
In a medium bowl, whisk together the lemon juice, water, and shallot, and then slowly drizzle in the olive oil while whisking to blend. Season to taste with salt and pepper.
Cut the artichokes in half lengthwise and gently toss them with enough of the vinaigrette to coat. Season to taste with salt and pepper. Garnish with the chopped parsley and serve.
Other recipes you might like