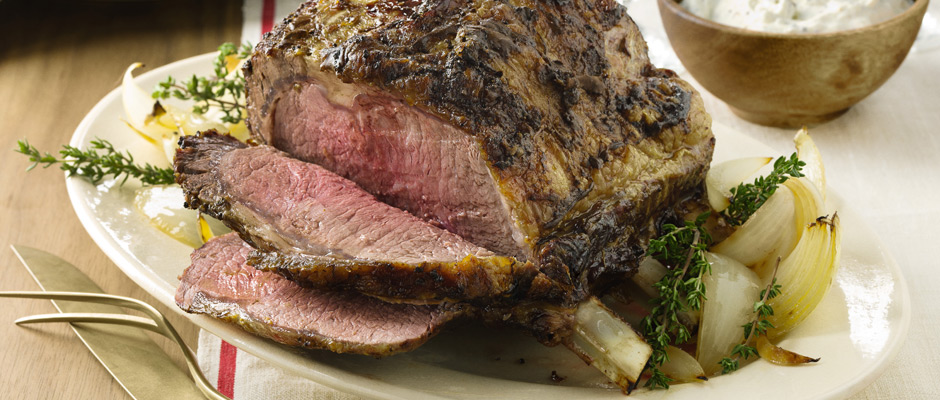 Prime Rib with Dijon and Whipped Horseradish Cream
Ingredients
1 (3-rib) standing rib roast of beef (6 to 8 pounds)
Kosher salt and freshly ground black pepper
3 large carrots, peeled, roughly cut
3 large celery stalks, roughly cut
4 large shallots, quartered lengthwise
Whipped Horseradish Cream:
1/4 cup finely grated peeled fresh horseradish
2 tablespoons coarse grain mustard
Directions
Make-Ahead:
The whipped horseradish cream can be made 3 hours ahead, covered and 
refrigerated.
Preheat the oven to 500°F. Season the beef generously with salt and pepper. Place the beef in a large roasting pan and roast just until the beef is brown on all sides, about 15 minutes. Remove the pan from the oven.
Add the carrots, celery, shallots and thyme to the same roasting pan and arrange the vegetables and thyme in the center of the pan then set the beef on top of the vegetables and thyme. Brush the mustard evenly all over the beef.
Reduce the oven temperature to 350°F. Return the roasting pan to the oven and roast the beef and vegetables for about 1 hour and 15 minutes, or until an instant-read meat thermometer inserted into the center of the beef registers the desired doneness, about 110°F for rare or 115°F for medium-rare. Remember that the beef will continue to cook and the internal temperature will continue to rise to the proper temperature as it rests, so don't overcook it.
Transfer the beef to a carving board and allow it to rest loosely covered in foil for 25 minutes.
Meanwhile, to prepare the jus:
Add the beef broth to the vegetables in the hot pan and stir to scrape up any brown bits on the bottom of the pan. Strain the jus through a fine-meshed strainer and into a saucepan. Discard the solids. Spoon off any excess oil that rises to top of the jus. Warm the jus over low heat before serving.
In a medium bowl, whisk the cream until thick but not stiff. Fold the horseradish and mustard into the cream. Season to taste with salt and pepper.
Cut the beef into slices and transfer to plates. Spoon some of the warm jus over the beef and serve the horseradish sauce alongside.
Other recipes you might like