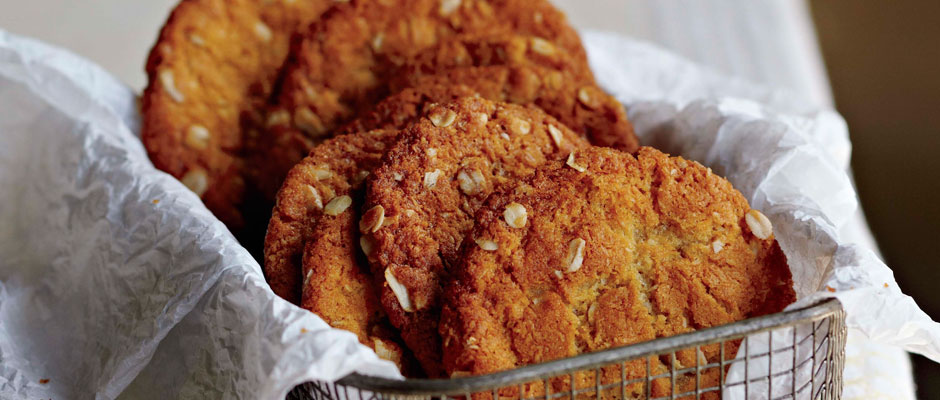 Oatmeal Coconut Butter Cookies
This is an ANZAC (Australian and New Zealand Army Corps) biscuit, the most popular cookie 
Down Under. People used to send these long- keeping treats to members of the army. History 
aside, this oatmeal coconut cookie belongs in your cookie jar too.
Ingredients
1 cup old-fashioned (rolled) oats
¾ cup unsweetened shredded coconut
12 tablespoons (1 ½ sticks) unsalted butter
3 tablespoons golden syrup, such as Lyle's
2 tablespoons boiling water
1 ½ teaspoons baking soda
Directions
Position racks in the top third and center of the oven and preheat the oven to 300°F. 
Line two large (18x13x1-inch) heavy rimmed baking sheets with parchment paper.
In a large bowl, mix the oats, coconut, flour, and sugar to combine.
In a medium heavy saucepan, stir the butter and syrup over low heat until the butter is melted. Remove the saucepan from the heat. In a small bowl, stir the water and baking soda together, and stir into the butter mixture. Stir into the flour mixture.
Using 1 tablespoon dough for each cookie, drop 12 mounds of dough onto each baking sheet, spacing them evenly. Do not crowd the cookies, as they will spread considerably.
Bake the cookies, switching the positions of the sheets from top to bottom and front to back halfway through baking, for about 15 minutes, or until golden brown. Let cool on the baking sheet for 5 minutes.
Transfer the cookies to wire racks and let cool completely. The cookies will become slightly crisp and chewy once cooled. Repeat with the remaining dough, being sure that the baking sheets are completely cooled before adding the dough.
Other recipes you might like