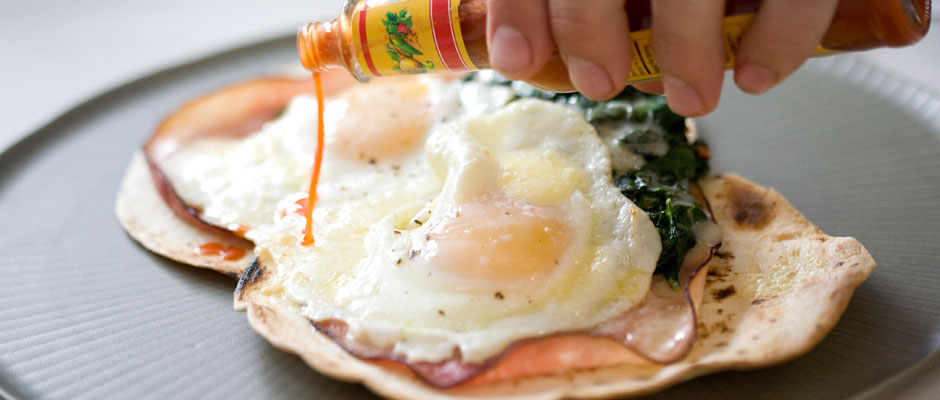 Crispy Tortilla with Ham, Chili, Spinach, and Fried Eggs
Ingredients
3 tablespoons butter, divided
1 small red jalapeño, finely chopped
8 cups (packed) fresh baby spinach
Four 10-inch flour tortillas
8 thin slices Black Forest ham
8 large organic free-range eggs
1 1/3 cups (about 5 ounces) crumbled sharp white cheddar cheese
Purchased hot sauce (such as Cholula)
Directions
Make-Ahead:
The spinach can be sautéed 4 hours ahead, covered and refrigerated.
Melt 1 tablespoon of butter in a large sauté pan over medium-high heat. Add the jalapeño and stir to coat with the butter. Add the spinach and sauté for 2 minutes, or just until the spinach wilts. Season to taste with salt. 
Place the spinach mixture in a fine sieve to drain any excess moisture from the spinach.
Meanwhile, to make and assemble the crispy tortillas:
Heat a flat griddle pan over medium-high heat. Working with one tortilla at a time, cook the tortillas for 2 minutes on each side, or until they are hot and slightly crisp (do not allow the tortillas to become too crisp at this point since they will continue to crisp under the broiler). Set 2 tortillas on each of 2 heavy large baking sheets.
Lay 2 slices of ham on each tortilla, overlapping slightly. Spoon the spinach atop the ham, dividing equally.
On the griddle pan, melt 1 tablespoon of butter over medium-high heat. Crack 4 eggs into the pan, spacing them evenly apart, and cook for 2 minutes, or until the whites are set and beginning to brown around the edges. Using a spatula, carefully set 2 eggs atop the spinach and ham on each tortilla. Repeat with the remaining 1 tablespoon of butter and 4 eggs.
Sprinkle the eggs with the cheese and broil for 1 to 2 minutes, or until the egg whites are 
set on top and the cheese melts.
Transfer to plates and serve with the hot sauce.