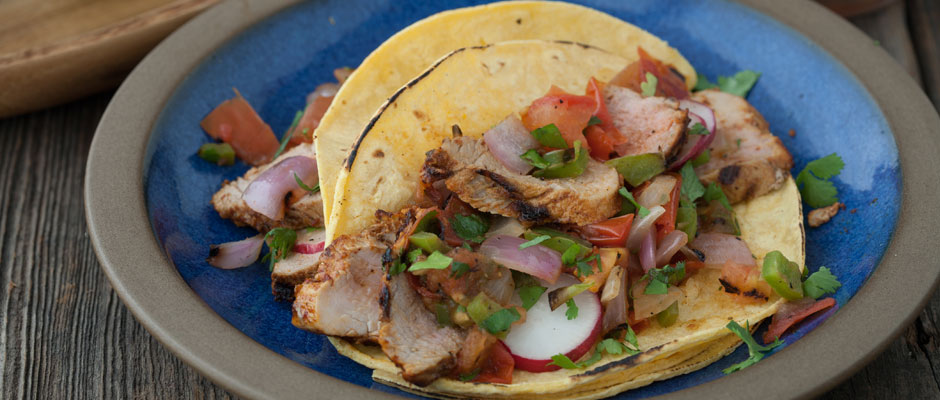 Chipotle Pork Tacos with Grilled Tomato Salsa and Lime
Ingredients
1/2 white onion, coarsely chopped
1/4 cup chipotle chiles in adobo sauce, coarsely chopped
1 tablespoon apple cider vinegar
1 tablespoon olive oil, plus more for coating the pork
1 pound pork tenderloin, cleaned of all fat and sinew, split in half lengthwise
2 large tomatoes, cut into 1-inch-thick slices
1/2 red onion, cut into 1-inch-thick slices
1 green jalapeño chile, halved, seeded
2 tablespoons olive oil, divided
Salt and freshly ground black pepper
2 tablespoons chopped cilantro
1 tablespoon fresh lime juice
1 cup thinly sliced radishes
Eight 6-inch corn tortillas
Directions
Make-Ahead:
The pork tenderloin can marinate for up to 24 hours, covered and refrigerated. The salsa can be made up to 2 hours ahead, covered and kept at room temperature.
In a food processor, puree the onion, chipotle chiles, garlic, vinegar, oil, chili powder, and oregano, adding a little water, if necessary, to thin out the puree.
Put the pork tenderloin in a glass or ceramic baking dish and coat with the chipotle puree. Let stand at room temperature while you prepare the barbecue and salsa.
Meanwhile, to make the salsa:
Prepare the barbecue for medium-high heat or preheat a grill pan over medium-high heat.
Place the tomatoes, red onion, and jalapeño on a baking sheet and rub 1 tablespoon of the olive oil all over the vegetables and jalapeño. Season the vegetables with salt and pepper. Transfer the vegetables and jalapeño to the barbecue grill grate and grill for 2 to 3 minutes per side, or until slightly charred and softened. Remove the vegetables and jalapeño from the barbecue and set aside to cool slightly. Coarsely chop the grilled vegetables and jalapeño.
In a large bowl, toss the chopped grilled vegetables and jalapeño with the remaining 1 tablespoon oil, cilantro, and lime juice. Season to taste with salt.
Remove the pork from the marinade and season it generously with salt and coat lightly with oil. Grill the pork, turning and basting it lightly with more oil and the remaining marinade as needed, for about 12 minutes, or until an instant-read thermometer inserted into the center of the pork reads 130°F. Transfer the pork to a carving board and let rest for 5 minutes.
Meanwhile, to prepare the tacos:
Grill the tortillas, turning once or twice, for about 1 minute, or until heated through but still pliable. Wrap the tortillas in a clean kitchen towel to keep warm.
Cut the pork crosswise into 1/4-inch-thick slices. Divide the pork evenly among the warm tortillas. Top each taco with the radishes and the grilled tomato salsa. Sprinkle with cilantro and serve immediately with lime wedges.