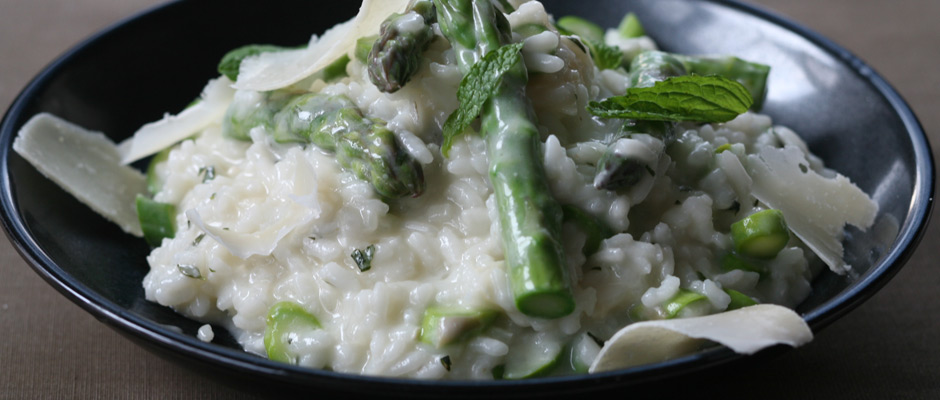 Asparagus and Parmesan Risotto
Risotto is the ultimate one-pot wonder, and it's the perfect dish to cook with a glass of wine in 
your hand-have a sip, have a stir, have a sip, have a stir. Stirring every thirty seconds or so and 
adding the stock gradually ensures that your risotto will be creamy, not porridge-y. Risotto can 
tend to be a little heavy, but asparagus and mint lighten it up, making it a great dish for spring.
Ingredients
About 8 cups store-bought vegetable stock
2 garlic cloves, finely chopped
1 1/2 pounds thin asparagus, woody ends removed, stalks cut into 1 1/2-inch lengths
4 tablespoons (1/2 stick) butter, cut in small pieces
1/2 cup grated Parmigiano-Reggiano cheese
1/4 cup mascarpone cheese
2 tablespoons finely chopped fresh flat-leaf parsley
1/4 cup finely chopped fresh mint leaves
Sea salt and freshly ground black pepper
Parmigiano-Reggiano cheese, shaved with a vegetable peeler, for garnish
Directions
Make-Ahead:
This risotto is best served as soon as it is made.
Bring the vegetable stock to a simmer in a large saucepan. Reduce the heat to very low 
and keep the stock on the heat.
Heat the oil in a large heavy saucepan over medium heat. Add the shallots, garlic, and thyme, and sauté for 2 minutes, or until the shallots are tender but not browned. Add the rice and sauté for 30 seconds to coat with the oil. Stir in the wine and cook for 3 minutes,or until it is absorbed.
Add 3/4 cup of the hot vegetable stock and cook, stirring constantly, until it has absorbed. Continue adding the hot stock, 3/4 cup at a time, stirring until each addition has been absorbed, for about 22 minutes, or until the rice is al dente (the center of each grain of rice should still be slightly firm).
Add the asparagus and continue to cook for 2 minutes. Discard the thyme stems (the thyme leaves should have fallen off the stems and into the risotto). Remove the risotto from the heat, and add the butter, grated Parmigiano-Reggiano, and mascarpone cheese. Stir until the butter has melted. Stir in the parsley, mint, and lemon juice, and season the risotto generously with salt and pepper.
Divide the risotto among 4 warmed serving bowls. Garnish with the shaved Parmigiano-Reggiano, and serve.