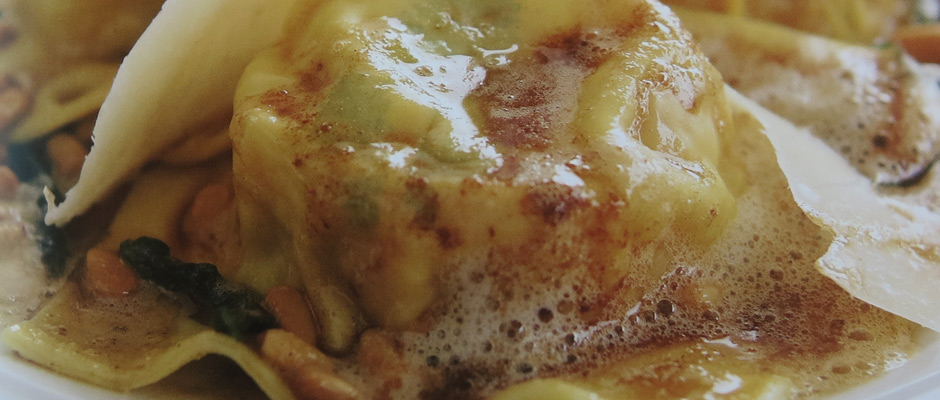 Homemade Ravioli of Pumpkin and Parmesan with Roasted Pine Nuts
There's no two ways about it, the first time you make ravioli, it will be a little difficult. The beauty 
of it is, after only a little practice of handling the pasta dough, you will enjoy it so much you may 
even become obsessed.
Ingredients
3 shallots, thinly sliced
3 garlic cloves, peeled, sliced
4 1/2 pounds sugar pie pumpkin, peeled, diced
7 ounces 1/2-inch cubes peeled sugar pie pumpkin
1 teaspoon finely chopped fresh tarragon
1 1/4 cups freshly grated Parmesan cheese
Salt and freshly ground black pepper
1 1/3 pounds all purpose flour, plus extra for dusting
2 tablespoons extra-virgin olive oil
2/3 cup pine nuts, toasted
1 1/2 ounces Parmesan shavings
Directions
Make-Ahead:
The ravioli can be made up to 1 day ahead, covered and refrigerated.
To make the pumpkin puree:
In a large saucepan, melt the butter over low heat. Add the shallots and garlic and sauté until soft, but not colored. Add the pumpkin and some freshly grated nutmeg then cover with a lid and cook over medium heat for 20 minutes, stirring frequently.
Remove the lid and continue cooking until all the liquid has evaporated. Transfer to a blender and process until smooth.
To make the ravioli filling:
Place the pumpkin puree in a small saucepan and leave over medium heat for 7 to 8 minutes, stirring constantly and making sure it doesn't catch. Leave to cool.
In a small non-stick frying pan, heat a little olive oil and cook the diced pumpkin for about 8 to 10 minutes, or until it turns golden brown. Leave to cool.
Mix the cooled puree, diced pumpkin, tarragon, and Parmesan together and season with salt and pepper to taste. Set aside.
In a large bowl, using your hands, combine the flour, egg yolks, egg, and extra-virgin olive oil. Knead the mixture until the dough resembles a smooth paste-like texture, then cover the dough in plastic wrap and rest in the refrigerator for 1 hour.
Using a pasta machine, roll the dough until it is 1/16-inch thick.
Lightly dust a work surface with flour and place the pasta sheets on the work surface. Cut pieces of pasta into 3-inch squares. Place 2 to 3 tablespoons of pumpkin mixture in the center of one pasta square and brush the edge of the pasta sheet with a little water. Place the second pasta sheet on top of the pumpkin mixture and press down gently around the filling to seal and expel any air. Trim the ravioli, if necessary.
To make the sauce and serve:
Drop the ravioli into a large saucepan of boiling salted water and cook for 5 to 6 minutes, or until they rise to the surface.
Place a large frying pan over medium-high heat. Add the butter and stir until melted and a light brown color. Add the sage leaves and lemon juice and remove the pan from the heat.
Drain the ravioli with a slotted spoon and place 3 on each serving plate. Spoon the butter and sage mixture over and around the ravioli and garnish with pine nuts and Parmesan shavings.
Other recipes you might like