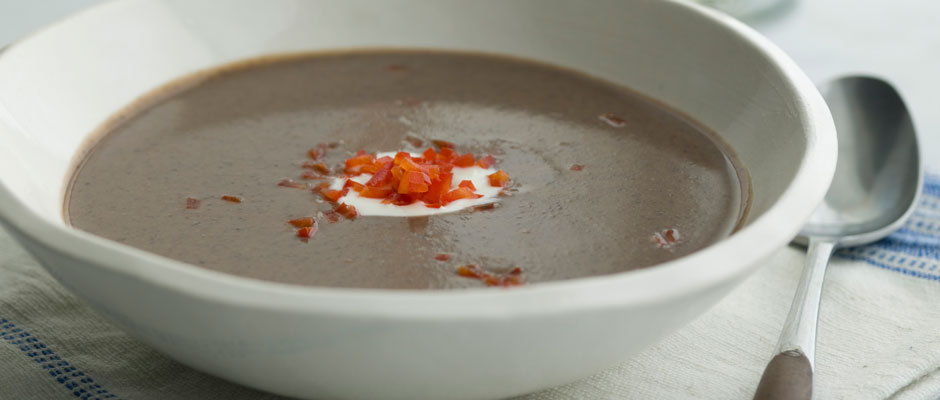 Spicy Black Bean Soup with Crème Fraîche and Cilantro
Ingredients
1 shallot, coarsely chopped
1 garlic clove, coarsely chopped
1 red jalapeño chile, seeded, chopped
1/2 teaspoon ground cumin
2 cups cooked black beans
Salt and freshly ground black pepper
1/2 small red bell pepper, seeded, finely diced
2 tablespoon chopped cilantro
Directions
Make-Ahead:
The soup can be made up to 1 day ahead, cooled, covered, and refrigerated. 
Rewarm the soup over medium heat, thinning it to the desired consistency with more chicken 
stock, if necessary.
Heat a large pot over medium-high heat. Add the oil and shallot and sauté for 1 minute, or until tender. Add the garlic, jalapeño, and cumin and sauté for 1 minute, or until the garlic softens. Add the beans and chicken stock and bring to the simmer. Simmer for 5 minutes to blend the flavors. 
In a blender, working in batches, puree the soup until smooth. Transfer the pureed soup to a medium saucepan and bring to a simmer over medium heat. Season the soup to taste with salt, pepper, and lime juice.
Ladle the soup into serving bowls, drizzle some crème fraîche over the soup, garnish with the red bell pepper and cilantro, and serve.
Other recipes you might like