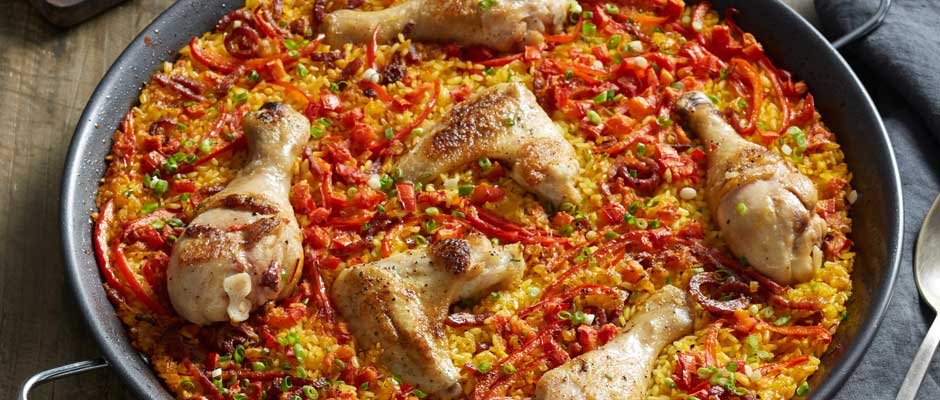 Chicken and Chorizo Paella
Paella! This is a one-pot wonder. I know you've all tried it in restaurants but it's actually simple to make at home. It's a beautiful rice dish that uses a small pinch of saffron and basically whatever proteins you like. Chicken and chorizo are a classic and delicious combination. Check out the How To clip below for all of the hot tips to make this dish an absolute winner! 
Ingredients
1 small pinch saffron threads
1/2 Spanish chorizo sausage, cut into julienne strips
1/2 medium red bell pepper, cut into julienne strips
3 garlic cloves, finely chopped
1/2 teaspoon smoked paprika
2 cups medium-grain white rice
1 vine-ripened tomato, seeded, cut into small dice
1 scallion, thinly sliced
Directions
Make-Ahead:
This paella is best eaten as soon as it is made.
Position a rack in the lower third of oven and preheat the oven to 400°F.
In a large saucepan, bring the water to simmer over high heat. Remove from the heat and add the saffron. Cover and set aside.
Meanwhile, heat a large skillet over high heat. Season the chicken with salt and pepper. Add the oil to the pan, then add the chicken and cook for 5 minutes, or until brown on all sides. Transfer the chicken to a plate and reduce the heat to medium-high. Add the chorizo to the pan and cook for 2 minutes or until browned. Reduce the heat to medium. Add the onion, bell pepper, garlic, and paprika and cook for 3 minutes, or until the vegetables soften. Stir in the rice and cook for 2 minutes, or until the pan is dry and the rice is coated with oil. Stir in the warm saffron water.
Transfer the rice mixture to a paella pan. Nestle the chicken into the rice mixture, spacing evenly, and pour any accumulated chicken juices over. Sprinkle with the tomato and season with salt and pepper. Transfer the paella to the oven and bake, uncovered, for 30 minutes, or until the rice is tender and crisp around the sides of the pan and the chicken is cooked through.
Remove the paella from the oven and let stand for 5 minutes. Garnish with the scallion and serve.