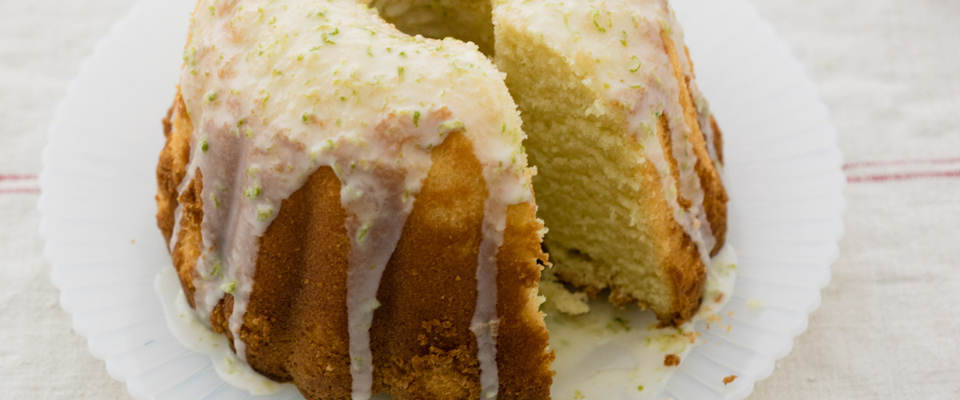 Rum Pound Cake with Lime Glaze
Rum and lime are a dream-team pair that in injects this cake with zesty personality. The buttery crumb soaks up the lime glaze nicely so be sure to spoon it all over the freshly baked cake for a truly tasty result. Pound it!
Ingredients
1 1/3 cups all-purpose flour
1/4 teaspoon baking powder
12 tablespoons (1 1/2 sticks) unsalted butter, at room temperature
1 1/4 cups granulated sugar

3/4 teaspoon pure vanilla extract
Nonstick vegetable oil cooking spray
1 3/4 cups sifted powdered sugar

1 1/2 tablespoons grated lime zest

3 tablespoons fresh lime juice
Directions
Make-Ahead:
Leftovers will keep for up to 2 days, covered and stored at room temperature.
Position a rack in the center of the oven and preheat the oven to 350°F.
In a medium bowl, whisk the flour and baking powder to blend. In a small bowl, combine the buttermilk and 4 tablespoons of the rum. In the bowl of a stand mixer fitted with the paddle attachment, beat the butter, granulated sugar, vanilla, and salt on medium-high speed for about 6 minutes, or until light and fluffy. Add the eggs one at a time, beating well after each addition. Reduce the speed to low and add the flour mixture and rum-buttermilk mixture alternately in three batches, beating just until blended.
Spray an 8-cup Kugelhopf (see Note) or Bundt pan with cooking spray. Scrape the batter into the prepared pan and bake for about
1 hour, or until a toothpick inserted near the center of the cake comes out with just a few moist crumbs attached. Cool on a cooling rack for 10 minutes, then invert the cake onto a plate or platter, remove the pan, and cool for about 30 minutes.
In a medium bowl, whisk the powdered sugar, lime zest and juice, and remaining 1 tablespoon rum until smooth. Spoon the glaze over the warm cake to coat. Serve the cake warm or at room temperature.
I bake my pound cakes in my grandmum's Kugelhopf pan, which is similar to a Bundt pan, only smaller. There is something nice and old school about them, but you can also bake this cake in a 9 x 5-inch loaf pan. If you're using a Kugel- hopf or Bundt pan, spray it with the nonstick cooking spray just before you transfer the batter to it, so that the spray doesn't have a chance to run down the sides and collect at the bottom.