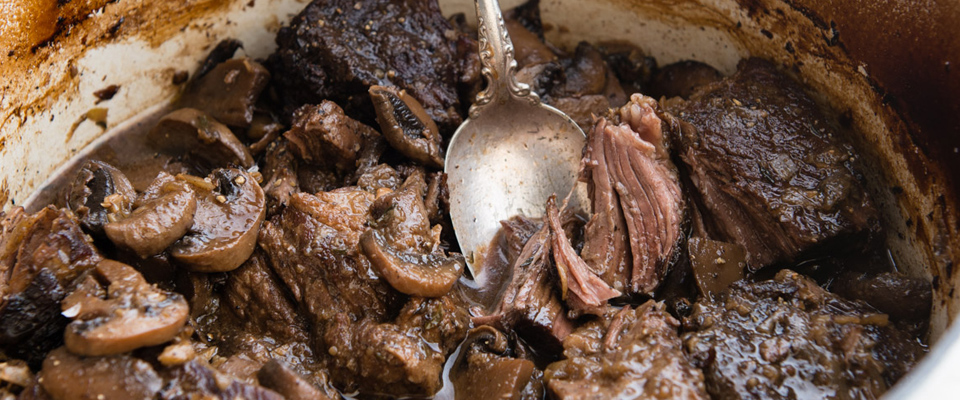 Porcini-Braised Beef with Horseradish Mascarpone
Slowly braising meat can turn cheaper cuts into rich, succulent, and hearty dishes. Northern Italy is home of the Slow Cooking movement and they've been cooking meat like this for centuries there, working with earthy ingredients like garlic, onions, and mushrooms. Here I use beef chuck and dried porcini mushrooms. Make enough for leftovers, and you'll have the perfect base for beef sandwiches with arugula and Horseradish Mascarpone.
Ingredients
1/2 ounce dried porcini mushrooms
1 3-pound beef chuck roast, cut into 8 large chunks
Kosher salt and freshly ground black pepper
3 cups low-sodium beef broth
1 pound white mushrooms, thickly sliced
Directions
Make-Ahead:
The beef can be braised up to 2 days ahead, cooled, covered, and refrigerated. Rewarm in the pot, covered, over medium-low heat.
Preheat the oven to 300°F.
Using a clean coffee grinder or spice mill, grind the porcini mushrooms 
into a powder.
Heat a Dutch oven or other wide ovenproof pot over high heat. Season the beef with salt and pepper. Add the oil to the hot pot, then add the beef, and cook, turning the meat occasionally, for about 10 minutes, or until well browned on all sides. Add the wine and stir to scrape up any browned bits on the bottom of the pot, then add the broth, mushrooms, shallots, garlic, thyme, and porcini powder and bring to 
a simmer.
Cover the pot and place it in the oven. Braise the beef, turning the pieces of meat over halfway through the cooking, for 3 hours.
Uncover the pot and continue cooking the beef for about 1 hour, or until it is tender enough to pull apart with a spoon and the liquid has reduced by about one-third. Discard the thyme stems.
Transfer the beef to four shallow serving bowls, spoon the mushrooms and braising liquid over, and serve with the horseradish mascarpone.