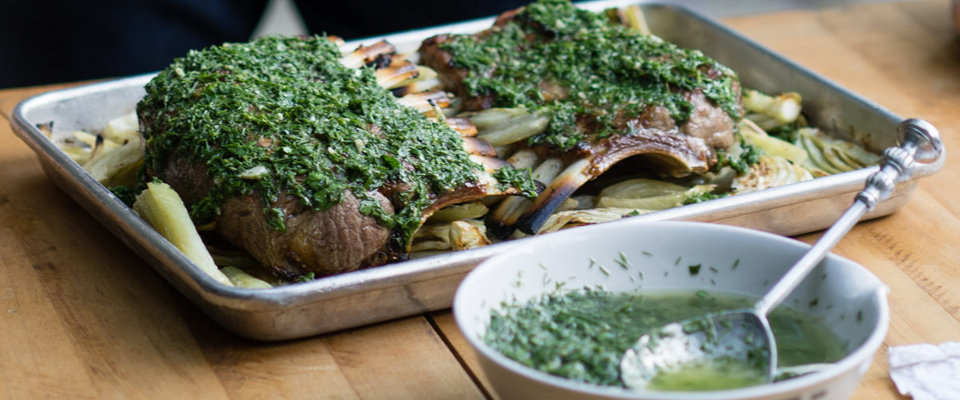 Herb-Crusted Rack of Lamb with Fennel
Have you ever tasted Italian porchetta? Most often, you see it as a pork roast where pork belly is wrapped around a pork loin and seasoned assertively with fennel, rosemary, and garlic. It is truly good food. It's also a beast of a meal. So I decided to take the flavors of a traditional porchetta and transfer them to a decidedly leaner cut of lamb. The result is a meal that is heavy on delicious flavors and light on time.
Ingredients
2 large fennel bulbs with fronds

Kosher salt and freshly ground black pepper
2 small racks of lamb (1 pound each)

1/4 cup chopped fresh flat-leaf parsley

1/2 teaspoon chopped fresh rosemary

1/2 teaspoon fennel seeds, crushed

2 tablespoons Dijon mustard
Directions
Make-Ahead:
The herbs can be chopped up to 4 hours ahead, covered, and refrigerated.
Preheat the oven to 425°F.
Trim the stalks from the fennel bulbs and finely chop enough of the fronds to equal about 1/4 cup; set aside in a small bowl. Thinly slice the fennel bulbs from the stalk end through the base. On a heavy baking sheet, toss the sliced fennel with 1 tablespoon of the oil, seasoning with salt and pepper. Spread the fennel over the baking sheet and 
set aside.
Season the lamb with salt and pepper. Heat a large skillet over medium-high heat. Add 2 tablespoons of the oil, then add the lamb and cook, turning occasionally, for about 6 minutes, or until the racks are golden brown all over. Set the lamb fat side up atop the fennel on the baking sheet.
Mix the garlic, parsley, rosemary, fennel seeds, mustard, and the remaining 5 tablespoons oil into the chopped fennel fronds; season with salt and pepper. Spread the mixture all over the lamb.
Roast the lamb for about 18 minutes, or until an instant-read thermometer inserted into the thickest part of the meat registers 130°F for medium-rare. Transfer to a cutting board and let rest for 5 minutes.
Cut the lamb into double chops and serve with the roasted fennel.