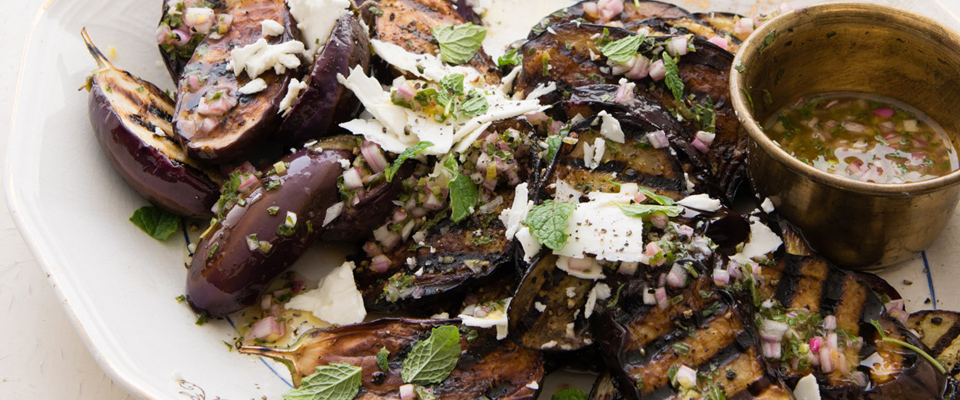 Grilled Eggplant with Mint Vinaigrette
Eggplant's texture is spongy and unappetizing when raw, but when cooked properly, it becomes silky, creamy, and such a delight to eat. The fresh mint vinaigrette gives this dish a Mediterranean feel, making it an ideal accompaniment to Greek dishes. In the summer, when eggplants are abundant in the farmers' market, I like to use all different shapes, sizes, and colors.
Ingredients
2 eggplants (1 pound each), cut crosswise into 1/2-inch-thick slices
8 tablespoons extra-virgin olive oil
Freshly ground black pepper
2 tablespoons white wine vinegar
1/4 cup finely chopped shallots
1 tablespoon finely chopped fresh mint, plus small leaves for garnish
A small square of feta cheese, for shaving
Directions
Make-Ahead:
The vinaigrette can be made up to 4 hours ahead, covered and refrigerated. Let stand at room temperature for 15 minutes and rewhisk to blend before using.
Lay the eggplant slices in a single layer on two baking sheets and sprinkle both sides with salt. Set aside for about 30 minutes, or until moisture beads on top of the eggplant.
Prepare a grill for medium-high heat.
Rinse the eggplant to remove the excess salt and pat dry. Brush the eggplant slices with 3 tablespoons of the oil, coating both sides. Season with salt and pepper. Working in batches, grill the eggplant for about
5 minutes per side, or until char marks form and the eggplant is very tender. Transfer to a platter as you finish each batch.
Meanwhile, grate the zest of the lemon into a small bowl. Halve the lemon and squeeze 2 tablespoons of juice into the bowl. Whisk in the vinegar, shallots, chopped mint, and the remaining 5 tablespoons oil. Season the vinaigrette to taste with salt and pepper.
Spoon the vinaigrette over the grilled eggplant and sprinkle with the mint leaves. Using a vegetable peeler, shave thin slices of cheese over the eggplant. Sprinkle with pepper and serve.
Salting the eggplant draws out bitterness. It also draws out water, which you can see happening moments after salting it. Removing excess moisture helps give the cooked eggplant a creamy, silken texture.