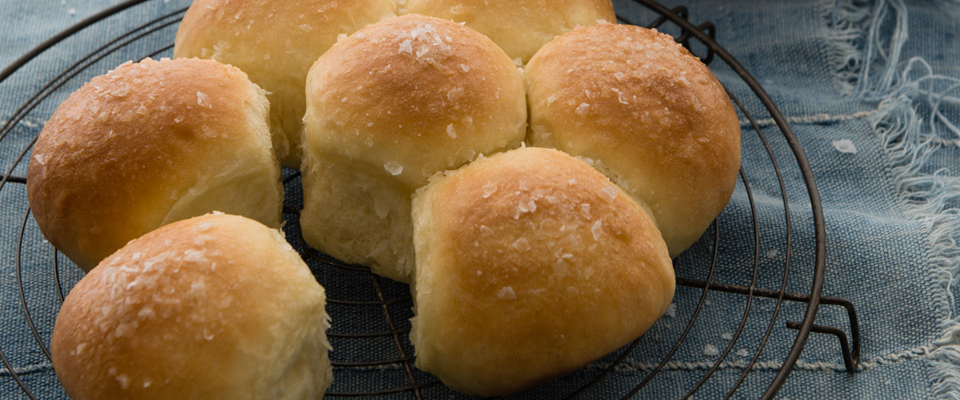 Buttered Buns
These billowy buns are a great introduction to baking your own yeast breads because they're simple but special. Plus they're great for sandwich fillings. Hudson and I have fun rolling out the dough, though the kitchen looks like a flour-bomb has hit it when we're done. Add extra flavor to the buns by sprinkling poppy or sesame seeds over them just before they go into the oven.
Ingredients
1 envelope active dry yeast
1/3 cup warm water (110° to 115°F)
1/4 cup non-hydrogenated vegetable shortening
1 1/2 teaspoons kosher salt

3 2/3 cups all-purpose flour

6 tablespoons (3/4 stick) salted butter, melted
Directions
Make-Ahead:
These buns are at their best when freshly baked, but they can be baked up to 1 day ahead, cooled, and stored airtight at room temperature. To reheat the buns, wrap them in aluminum foil and warm in a 375°F oven for about 5 minutes, or until heated through.
In a small bowl, whisk the yeast and warm water together. Let stand for 10 minutes, or until foamy.
In a small saucepan, stir the milk and shortening over medium-low heat just until most of the shortening has melted and the mixture is lukewarm. Transfer to a large bowl.
Stir the sugar and salt into the milk mixture. Whisk in the egg, then whisk in the yeast mixture. Add the flour and stir until the dough forms. Transfer the dough to a lightly floured surface and knead for about 5 minutes, or until smooth.
Transfer the dough to a lightly oiled bowl and turn it to coat with oil. Cover loosely with plastic wrap and let rise in a warm, draft-free area for about 1 hour, or until doubled in size. (Alternatively, you can refrigerate the dough for up to 1 day to rise slowly.)
Brush two 8-inch round or square cake pans or baking dishes with some of the melted butter. Punch the dough down and divide it into 14 equal pieces (about 2 ounces each). Roll each piece into a ball: Lightly moisten the work surface with water so the dough sticks to the surface slightly and pulls as you are cupping it with your hand to shape it. Don't feel as if you have to have perfectly shaped buns—the buns are actually most attractive when a little rustic and bumpy.
Arrange 7 dough balls in each of the prepared pans and brush generously with melted butter. Cover and let rise in a warm, draft-free area for about 30 minutes, or until the buns just begin to touch. (Reserve the remaining melted butter.)
Preheat the oven to 350°F.
Bake the buns for about 16 minutes, or until they are puffed and golden brown. While the buns bake, remelt the reserved butter. Brush the warm buns generously with the melted butter and serve warm.