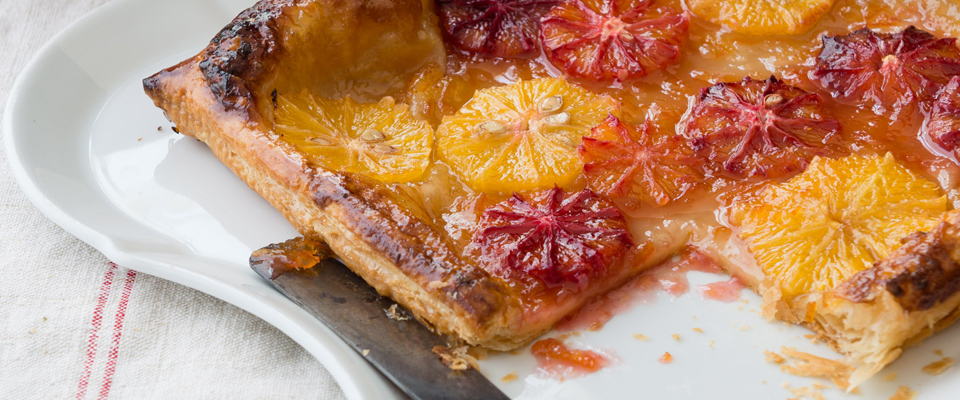 Winter Citrus Tart with Rosemary Whipped Cream
I have a huge soft spot for this dish. It requires very little labor for full-on flavor and is incredible to look at from the moment you arrange the sliced citrus fruit over the pastry, and becomes more and more delicious to the eye as it bakes: the pastry puffs up and turns golden and the oven heat deepens the color of the citrus. While an herbed whipped cream may sound unusual, it cuts through the fruit's sweetness and brings warmth to the dessert. Vanilla ice cream tastes pretty great with the warm tart too.
Ingredients
2 oranges (navel, Cara Cara, or blood oranges), tangerines, or tangelos
1 9 x 9-inch sheet frozen puff pastry, thawed but still very cold
1 tablespoon powdered sugar, plus more for dusting
1/4 teaspoon minced fresh rosemary
Directions
Make-Ahead:
The whipped cream can be made up to 4 hours ahead, covered, and refrigerated. Rewhip it lightly before serving.
Preheat the oven to 425°F. Line a baking sheet with parchment paper.
Using a sharp knife, remove the peel and all the bitter white pith from 
the oranges. Slice each orange into about 8 thin slices.
Lay the pastry on the prepared baking sheet. Spread the marmalade over the pastry, leaving a 1-inch border around the edges. Arrange the orange slices on top, turning to coat them with the marmalade as you go.
Bake the tart for about 20 minutes, or until the pastry is a dark golden brown and cooked through. Halfway through baking, use a pastry brush to brush any juices from the oranges that have accumulated in the center over the pastry edges.
Meanwhile, in a medium bowl, whip the cream with the powdered sugar and the rosemary until thickened. Refrigerate until ready to serve.
After you remove the tart from the oven, brush any more accumulated juices over the oranges and pastry edges. Lightly dust the top of the tart with powdered sugar. Cut the tart into squares and serve warm with the cream.