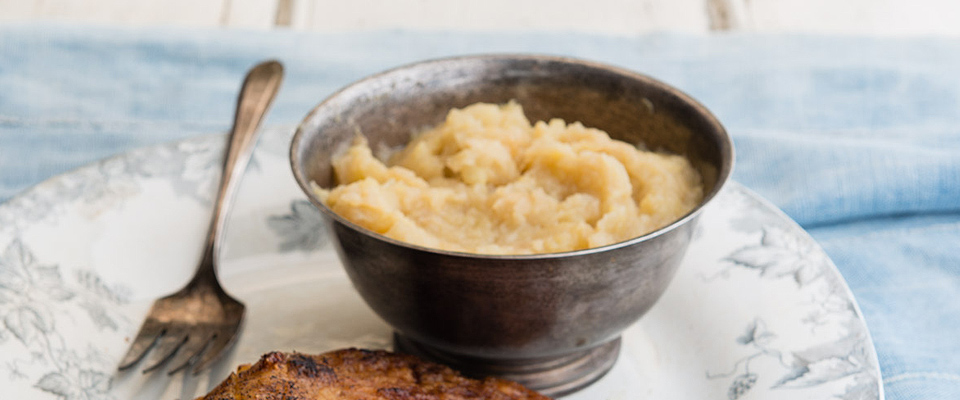 Homemade Applesauce
Pork and applesauce are a classic match, and for good reason. The tartness of the apple counteracts the richness of the pork. The applesauce can be made up to 3 days ahead, cooled, covered, and refrigerated. If desired, rewarm, covered, over medium-low heat before serving. Makes 4 cups.
Ingredients
3 tablespoons Calvados or other apple brandy
2 tablespoons (1/4 stick) unsalted butter

2 1/2 pounds Fuji apples (about 5 large or 7 small), cored and cut into quarters
Directions
Preheat the oven to 400°F.
In a small heavy saucepan, stir the Calvados, butter, sugar, salt, star anise, and clove over medium heat until the butter melts.
In a medium bowl, toss the apples with the melted butter mixture to coat. Place the apples cut side down in a 9-inch square baking dish. Roast for about 45 minutes, or until the apples are soft. Set aside until the apples are cool enough to handle.
Using a spoon, scoop the flesh from the apple peels and discard the peels. Remove and discard the star anise and clove. Using a potato masher, carefully mash the apples to a chunky consistency, in the baking dish, with the juices. Serve the applesauce warm, at room temperature, or cold.