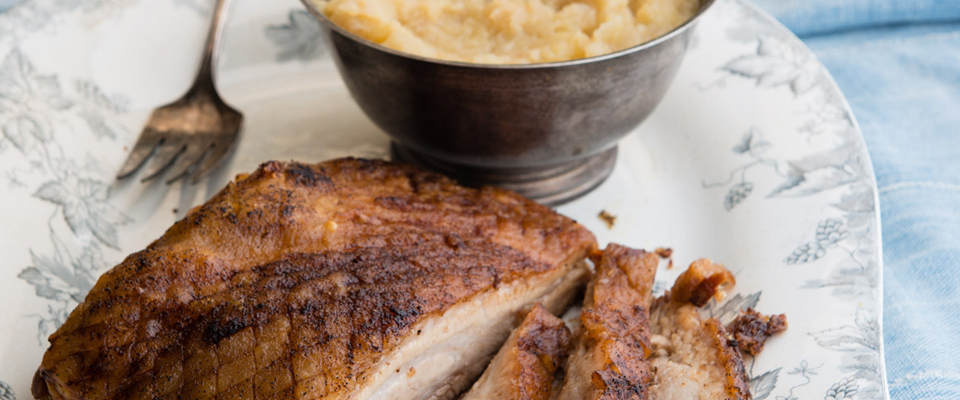 Roasted Pork Belly with Homemade Applesauce
One of my favorite family meals growing up was my mum and granny's roast pork. I like to serve the rich, tender pork belly with applesauce made with Calvados and a bit of star anise. You can also dice the meat and use it for hash or reheat on the grill and shred it for a taco filling. Buy pork belly from your local specialty butcher or Asian market.
Ingredients
1 3-pound piece pork belly (skin removed)
1 teaspoon freshly ground black pepper
Directions
Make-Ahead:
The pork belly can be roasted up to 2 days ahead, cooled, covered, and refrigerated. To rewarm, cut the pork into portions and either sear them in a nonstick skillet over medium heat until golden brown on all sides and heated through, roast them in a 350°F oven, or grill them.
Preheat the oven to 350°F.
Using a small sharp knife, score the fat that covers the pork belly in a crosshatch pattern. In a small bowl, mix the salt, garlic powder, and pepper to blend. Rub the spice mixture all over the pork belly, working it into the scored surface.
Place a wire rack on a rimmed baking sheet, set the pork belly fat side up on the rack, and cover the pork with foil. Roast for about 2 hours, or until the pork is tender.
Increase the heat to 400°F, remove the foil from the pork, and continue roasting for about 30 minutes, or until the pork belly is browned all over and pull-apart tender. Let rest for about 15 minutes.
Carve the pork and serve with the applesauce.
I've purposely kept my roasted pork belly simple so that you can take it in any direction you'd like. For example, for the rich intoxicating flavors of Mexican cuisine, mix 2 teaspoons each ancho chile powder and kosher salt, 11/2 tea- spoons ground cumin, and 1/2 teaspoon each freshly ground black pepper and garlic powder and rub the spice mixture over the pork belly. You'll want to dice the pork, or pull it apart, and tuck it into tacos, burritos, Mulita-Style Quesadillas, or enchiladas. Or, for five-spice pork belly, simply coat the pork belly with 1 tablespoon five-spice powder and 2 teaspoons kosher salt. This is especially delicious in bánh mì sandwiches.