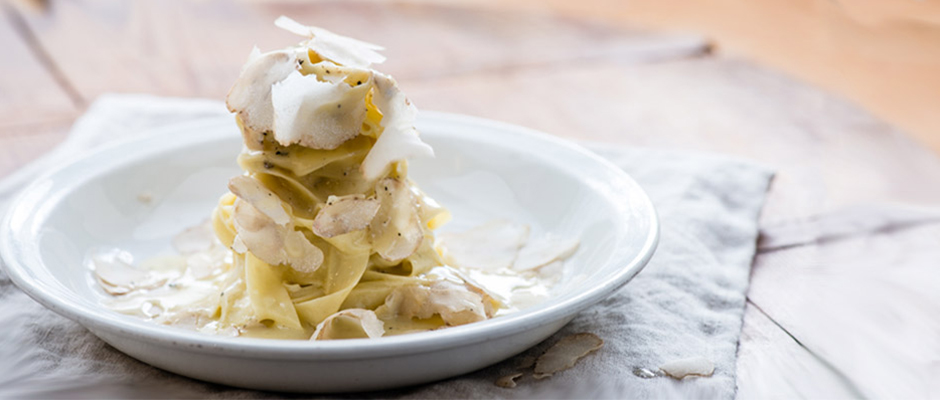 Fresh Tagliatelle with White Truffles
If you ever get the chance to cook with these white truffles, try them this way first. The flavor of the white truffles is so good it's almost indescribable and there's nothing better than homemade tagliatelle to show off that flavor. If you're really pushed for time, you can buy fresh pasta from a good quality Italian deli.
Ingredients
19.5 ounces 'OO' flour
6 large egg yolks
4 large whole eggs
1 tablespoon extra-virgin olive oil
11.3 ounces fresh tagliatelle
2 ounces butter
2 tablespoons hot water
3 1/2 ounces white truffles
Directions
Make-Ahead:
The pasta can be rolled and cut up to 4 hours before cooking. Line a sheet tray with parchment paper and lightly dust it with flour. Twist the cut pasta on itself to form a 'nest.' Place the pasta nests on the prepared sheet tray. Store loosely covered in the refrigerator until ready to serve. Add an extra 30 seconds to the cooking time of the pasta nests. 
In a large mixing bowl, combine the flour with the egg yolks, egg and the olive oil. Mix with your hands to combine all ingredients. Knead the mixture until the dough is smooth. Cover the dough in cling film and rest in the refrigerator for 1 hour.
Using a pasta machine, roll the dough until it is 1/16-inch  thick. Using the attachment on the machine or a sharp knife, cut the dough into 1/3-inch  wide strips. 
To cook and finish the pasta:
In a large pot of boiling salted water, add the tagliatelle and cook it until al dente (if you are using homemade pasta, this will only take 20-30 seconds).
Melt the butter in a large frying pan and slowly add the hot water, stirring constantly to make an emulsion. Add the drained pasta to the emulsion, season with salt and pepper, and toss to combine.
Twist the tagliatelle around a roasting fork and place it onto individual serving plates. Finely slice the truffle over the pasta and serve.