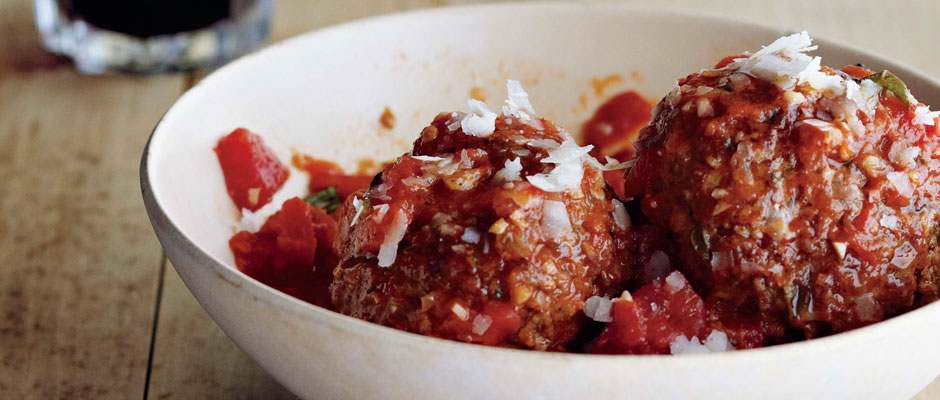 Turkey Meatballs with Marinara Sauce
Who doesn't love meatballs in basil-scented tomato sauce? But who would have thought 
that they could still be on the family table when you are trying to eat healthfully? These 
are so juicy and satisfying that you won't need the pasta. The recipe makes fairly large 
meatballs with a generous amount of sauce, allowing for a single ball per serving. Trust me, one 
will be plenty and you'll have extra for tomorrow.
Ingredients
½ cup finely chopped shallots
6 large garlic cloves, finely chopped
4 large sprigs of fresh thyme
Two 28-ounce cans whole tomatoes, undrained
½ cup loosely packed torn fresh basil leaves
Kosher salt and freshly ground black pepper
1 1/2 cups cubed (3/4-inch) crustless Italian or French bread (about 2 ounces)
2/3 cup reduced-fat (2%) milk
2/3 cup reduced-fat (2%) milk
5 large garlic cloves, finely chopped
1/3 cup finely chopped fresh flat-leaf parsley
1 tablespoon chopped fresh thyme
2 tablespoons Dijon mustard
1 1/2 teaspoons sweet paprika
Freshly grated Parmesan cheese, for serving
Directions
To make the marinara sauce:
Heat a wide heavy pot over medium heat. Add the olive oil, then add the shallots and garlic and cook, stirring often, for about 2 minutes, or until tender but not browned. Add the thyme, bay leaf, and wine, then add the tomatoes. Crush them with a potato masher to break them up.
Bring to a simmer, then reduce the heat to medium low and simmer, uncovered, stirring occasionally, for about 25 minutes, or until the liquid has reduced slightly and the flavors are well blended. Discard the thyme stems and bay leaf. Stir in the basil. Season to taste with salt and pepper.
In a large bowl, combine the bread cubes and milk. Set aside for about 5 minutes, or until the bread is soggy. Using your hands, mash the bread mixture. Add the shallots, garlic, parsley, thyme, mustard, salt, paprika, and egg and mix until blended. Add the turkey and, using your hands, gently mix until blended. The mixture will be soft, which will ensure tender meatballs. Form the mixture into 8 large meatballs.
Heat a large heavy skillet over medium heat. Add the olive oil. Working in batches, add the meatballs and cook, turning occasionally, for about 12 minutes per batch, or until browned all over. Using a slotted spoon, transfer to a plate.
When the sauce is ready, add the meatballs and simmer for about 5 minutes more, or until the meatballs are cooked through, with no sign of pink.
Spoon the meatballs and tomato sauce into serving bowls. Sprinkle with Parmesan cheese and serve hot.
Other recipes you might like