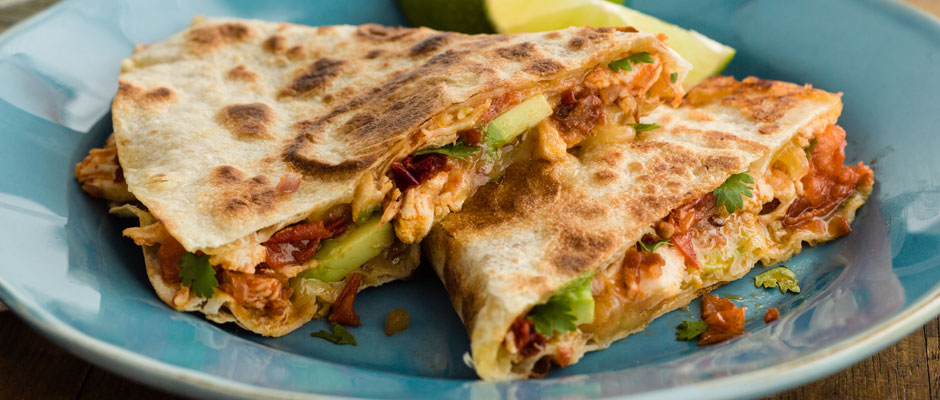 Chipotle Chicken Quesadillas
These chipotle chicken quesadillas are bold and absolutely beautiful. They've got all of those Mexican flavors we love - a touch of heat from chilis, lime, avo, cheddar cheese, cilantro, and sour cream. Don't worry about cutlery, pick them up with your hands and go for it. Napkins essential folks.
Ingredients
1 red onion, finely chopped (about 1 1/2 cups)
Kosher salt and freshly ground black pepper
3 garlic cloves, finely chopped
5 chipotle chiles in adobo sauce, finely chopped
3 vine-ripened tomatoes (about 1 1/4 pounds total), diced
3 green onions, thinly sliced
3 cups coarsely shredded roasted chicken breast
Four 10-inch-diameter flour tortillas
3 cups shredded white cheddar cheese (about 12 ounces)
2 avocados, peeled, pitted, sliced
1/2 cup fresh cilantro leaves
1/3 cup Mexican crema or sour cream
Directions
Make-Ahead:
The chipotle chicken can be made up to 1 day ahead, cooled, covered, and refrigerated.
To prepare the chipotle chicken:
In a large sauté pan, heat the oil over medium heat. Add the onion, sprinkle with salt, and sauté until tender, about 3 minutes. Add the garlic and sauté until the onions are translucent, about 2 minutes. Stir in the chipotle chiles then the tomatoes. Cook until most of the liquid from the tomatoes has evaporated and the mixture begins to thicken, stirring often, about 20 minutes. Stir in the green onions and honey. Stir in the chicken. Season to taste with salt and pepper. Keep warm.
Heat a large flat griddle pan over medium-low heat.
Lay 2 tortillas on the griddle and cook until hot but not crisp, about 2 minutes. Turn the tortillas over. Sprinkle 1/2 cup of the cheese over the bottom halves of the tortillas. Spoon about 3/4 cup of the chicken mixture in an even layer atop the cheese over each tortilla. Top each with 1/4 cup of cheese then with half of the avocado slices. Fold the tortillas over to cover the fillings and form a half-moon shape.
Cook until the tortillas are crisp and golden and the cheese has melted, about 3 minutes on each side. Repeat to make 2 more quesadillas. Open the quesadillas and scatter the cilantro over the filling. Drizzle the crema over the filling then close the quesadillas.
Cut the quesadillas into wedges. Serve with lime wedges and enjoy immediately.