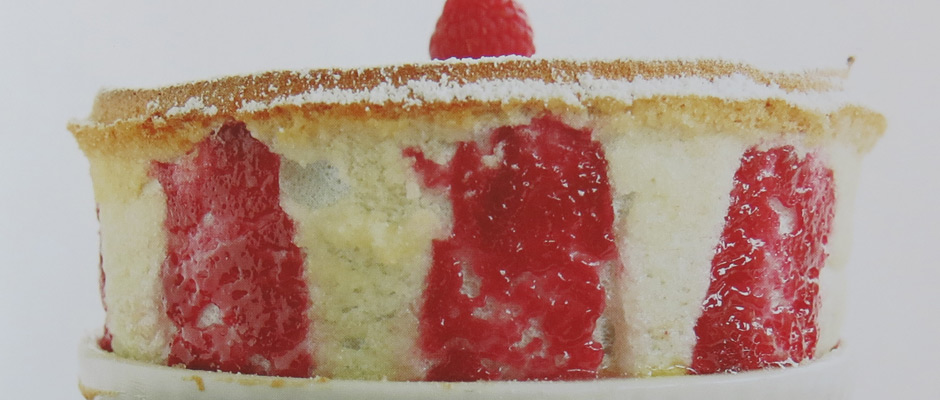 Raspberry Soufflé with Raspberry Sauce
To be honest, soufflés were invented as a way for chefs to use up excess egg whites. So many 
recipes call for egg yolks and I hate wasting food, so I just had to include a recipe to use up the 
egg whites. It's a light dessert and ideal to follow a large dinner.
Ingredients
2 pints fresh raspberries
3/4 cup confectioners' sugar
4 tablespoons unsalted butter, melted
1/2 jar seedless raspberry jam (preserve)
Confectioners' sugar for dusting
4 fresh raspberries, to garnish
Directions
Make-Ahead:
The raspberry sauce, soufflé base, and soufflé dishes can be prepared up to 8 
hours ahead. Cover and refrigerate the sauce and soufflé base. Let the soufflé base stand at 
room temperature for 30 minutes and stir before using. Keep the soufflé dishes in the freezer.
To make the raspberry sauce:
In a blender, puree the raspberries and confectioners' sugar until smooth. Push the puree through a fine sieve, discarding the seeds and reserving the sauce.
To make the soufflé base:
In a small saucepan, cook the raspberry jam over medium heat it begins to boil.
In a small bowl, combine the cornstarch and water then slowly add the mixture to the raspberry jam, stirring constantly. Once the jam resembles a thick paste, remove it from the heat and set it aside to cool.
To prepare the soufflé dishes:
Brush the melted butter carefully around the inside of 6 individual soufflé dishes then sprinkle the inside of the dishes with superfine sugar to coat completely, discarding any excess sugar. Place the dishes in the freezer for 5 minutes then repeat the process, making sure that the first coating of sugar is not scraped away. Using a pastry brush, paint 6 stripes of the raspberry sauce into the inside of the soufflé dishes, being careful not to disturb any sugar. Return the soufflé dishes to the freezer
Preheat the oven to 375ºF.
In a large bowl, using an electric mixer with the whisk attachment on high speed, whisk the egg whites and 2 tablespoons of the superfine sugar together until the egg whites begin to thicken. Add the rest of the superfine sugar and continue whisking on high speed until the egg whites resemble stiff peaks.
Mix the raspberry jam mixture thoroughly with one-third of the egg whites then gently fold in the remainder of the egg whites to create a light mixture. Remove the soufflé dishes from the freezer and fill them to the top with the soufflé mixtures. Using a palette knife, ensure the soufflé dishes are full then evenly level the top.
Place the dishes immediately in the hot oven for 10 to 13 minutes, or until the soufflés have risen to nearly double the size of the dish. Dust with confectioners' sugar, garnish with a raspberry, and serve immediately with the raspberry sauce.