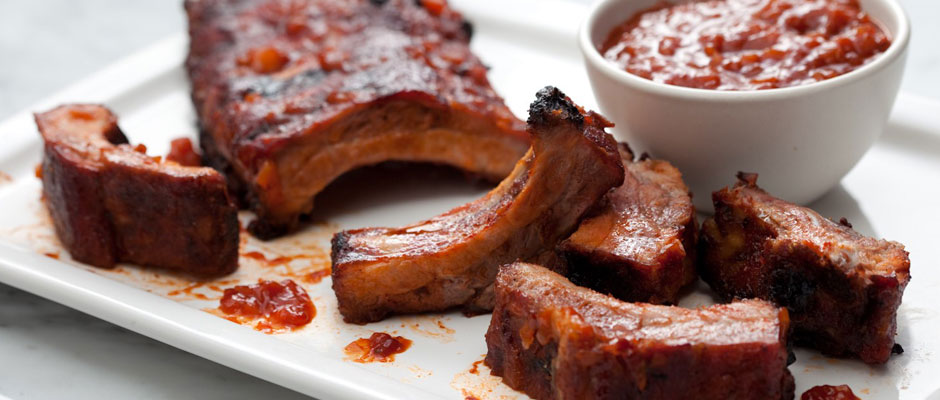 Slow Cooked Pork Baby Back Ribs with Smoky Barbecue Sauce
Ingredients
1/4 cup (packed) golden brown sugar
2 teaspoons freshly ground black pepper
1/4 teaspoon cayenne pepper
Two 2 1/2-pound racks baby back pork ribs
2 tablespoons unsalted butter
2 garlic cloves, finely chopped
1 cup white distilled vinegar
3/4 cup (packed) golden brown sugar
3 dried chipotle chilies, soaked
3 tablespoons Worcestershire sauce
1/2 teaspoon freshly ground black pepper
1/2 teaspoon cayenne pepper
2 Granny Smith apples, peeled, cored and cut into a small dice
Mesquite wood chips, soaked in water for 1 hour
Directions
Make-Ahead:
The sauce can be made up to 1 week ahead, cooled, covered, and refrigerated; reheat before using.
In a medium bowl, mix the brown sugar, paprika, black pepper, oregano, cumin, and cayenne pepper.
Rub the ribs with the salt. Sprinkle the dry rub evenly over the ribs on both sides and massage the rub into the meat. Wrap the ribs in foil and refrigerate overnight.
Prepare a barbecue for low heat, about 250°F. Drain the water from the wood chips and set the wood chips in the broiler pan. Place the broiler pan to one far side of the barbecue over the coals or heating source until it begins to smolder. Turn off the heat from under the pan of wood chips.
Remove the foil from the ribs. Lay the ribs on a baking sheet and set the baking sheet directly on the grill over the hot coals or burners that remain on. Close the lid of the barbecue and cook until the meat around the bones is very tender, turning the ribs over once, about 1 1/2 hours.
It may be necessary to occasionally open the barbecue lid or slightly prop the lid open to regulate temperature from getting too high.
Meanwhile, to make the barbecue sauce:
In a large heavy saucepan, melt the butter over medium heat. Add the onion and sauté until tender, about 5 minutes. Add the garlic and sauté until very tender, about 3 minutes. Stir in the paprika. Stir in the vinegar then the brandy. Simmer for 3 minutes.
Add the chicken broth. Stir in the ketchup, brown sugar, soaked chipotle chilies, Worcestershire sauce, salt, dry mustard, black pepper, and cayenne pepper. Add the apples. Squeeze the lemon juice from the lemon into the sauce.
Bring the sauce to a simmer over high heat then reduce the heat to medium-low and simmer, uncovered, until the sauce reduces and thickens slightly, stirring occasionally, about 1 hour.
Once the meat around the ribs becomes tender, remove the ribs from the baking sheet and place the ribs directly on the grill. Or, if desired, keep the ribs on the baking sheet throughout the remaining cooking time for easier clean up.
Begin brushing the ribs lightly with the barbecue sauce, allowing the sauce to set a bit before applying the next coat. Continue brushing the ribs with the barbecue sauce, turning as needed and making sure both sides are evenly coated. Once the meat pulls away from the bone easily, remove the ribs from the grill.
Let rest for about 5 minutes and brush generously with the reserved barbecue sauce.  Cut the rack into individual ribs. Arrange the ribs on a platter and serve with the remaining sauce.