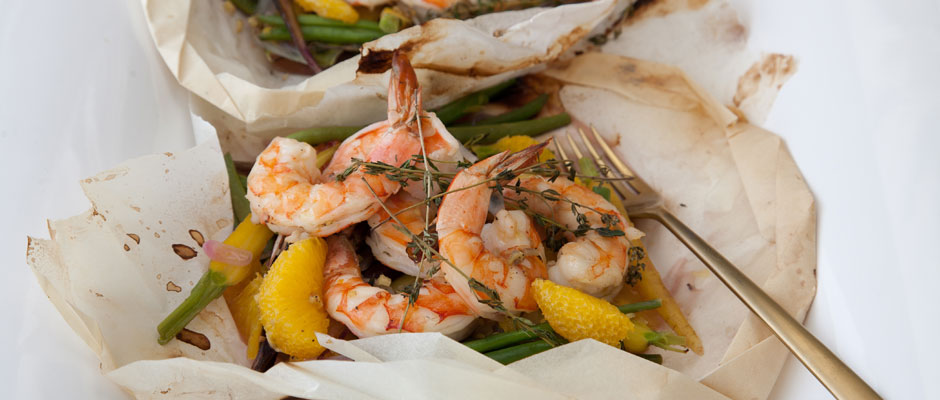 Shrimp Steamed in Paper with White Wine and Orange
Ingredients
8 ounces French green beans, ends trimmed
12 baby carrots, peeled, halved lengthwise
2 shallots, thinly sliced
Salt and freshly ground black pepper
24 extra-large shrimp, peeled, deveined
2 teaspoons finely chopped peeled fresh ginger
Directions
Make-Ahead:
The parcels can be assembled and refrigerated up to 2 hours ahead.
Preheat the oven to 400°F and place 2 heavy large baking sheets in the oven to preheat.
Fold four 24x16-inch sheets of parchment paper in half so that they are now 12x16 inches. Cut each rectangle into a half heart shape with the center of the heart being the fold. Open the paper hearts and lay them flat on a work surface.
Cut off the tops and bottoms of two oranges. Using a small sharp knife, cut away the peel and white pith from the oranges, following the curve of the oranges from top to bottom. Holding one orange in your hand, and working over a bowl, make 2 cuts along the membranes on either side of a segment, then lift the segment out of the membranes and drop it into the bowl. Repeat to remove all the segments from both oranges.
To assemble the packages:
Lay the green beans tightly together on the right side of each paper heart. Lay the carrots on the green beans so they are facing the perpendicular direction of the carrots. Sprinkle the shallots over and around the vegetables then sprinkle the vegetables lightly with salt and pepper.
Season the shrimp with pepper. Place the shrimp on top of the vegetables and lay the orange segments over the shrimp. Sprinkle the ginger over, and then drizzle the wine over, being careful to keep the liquid next to the vegetables and shrimp. Place a sprig of thyme atop each.
Fold the left panel of each heart over the fillings to form the half heart shape. Starting from the top of each parcel, make small, overlapping pleats to seal the open sides and create a half-moon shape. Be sure to completely close or crimp the package so steam does not escape while cooking.
Place the four paper packages on the preheated baking sheets and return the baking sheets to the oven. Bake for 14 minutes. (The paper will puff up while baking.
Remove the parcels from the oven and let sit at room temperature for 3 minutes.
Carefully cut or tear open the paper parcels, being careful of the steam, and transfer the parcels to serving plates and serve immediately.