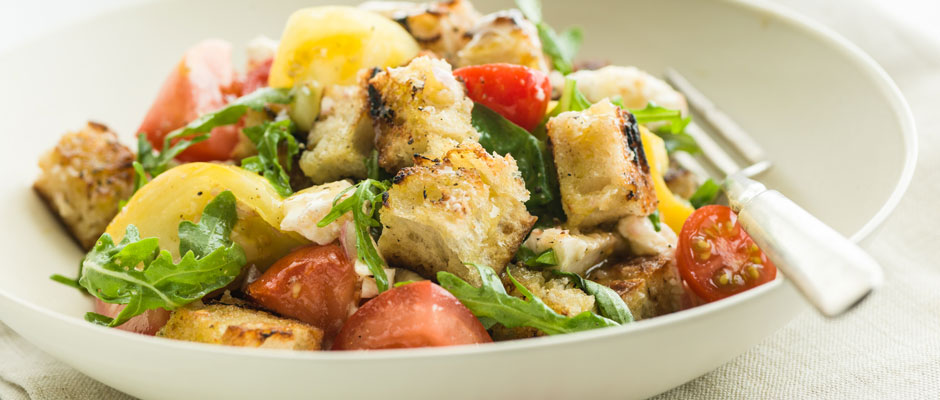 Panzanella with Grilled Bread, Tomatoes, Basil, Arugula, and Red Wine Vinaigrette
Panzanella is a Tuscan salad with chunks of grilled and vinegar-dressed bread and fresh summer tomatoes. The crisp-chewy, slightly charred grilled bread is so tasty with the fresh ingredients. Great salad option for work lunches - just toss the bread through the salad a few minutes before eating to prevent it from becoming soggy. 
Ingredients
1 large garlic clove, minced
1/2 cup extra-virgin olive oil
1 ciabatta loaf, cut into 1-inch cubes (12 cups)
1/2 teaspoon freshly ground black pepper
1 pound assorted heirloom tomatoes, cut into 3/4-inch cubes
1 pound fresh mozzarella cheese, cut into 1/2-inch cubes
3/4 cup chopped fresh basil
1/4 cup finely chopped shallots
Directions
Make-Ahead:
The garlic oil can be made up to 6 hours ahead, covered and refrigerated. Bring 
to room temperature before using.
Prepare the barbecue for medium-high heat.
Using a large heavy knife, mash the garlic with a pinch of salt into a paste. Transfer the  garlic to a small bowl and add 1/2 cup of olive oil in a slow stream, whisking until combined well.
Brush the bread slices with 1/4 cup of the garlic oil. Grill until golden, about 5 minutes per side. Cut the bread into cubes.
Whisk the vinegar into the remaining garlic oil. Season the vinaigrette to taste with salt and pepper.
In a large bowl, toss the grilled bread, tomatoes, mozzarella, basil, arugula, and shallots with enough vinaigrette to coat. Let stand 10 to 15 minutes at room temperature to allow the flavors to develop, then toss again just before serving.