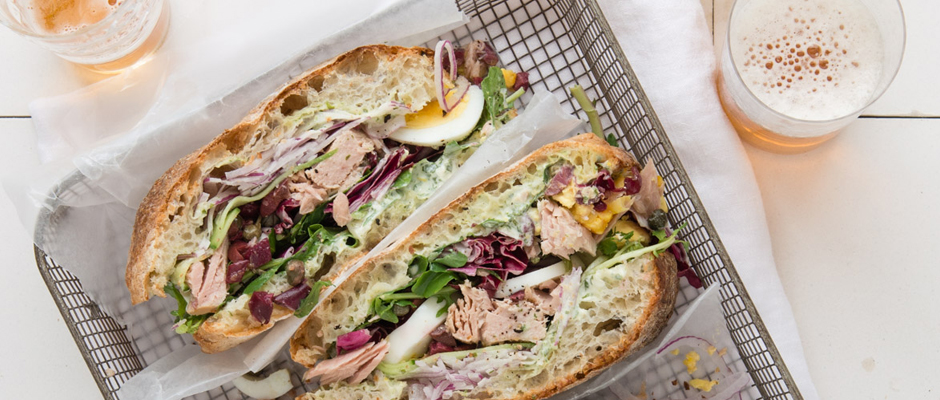 Pan Bagnat
Pronounced "pahn-bahn-yah," the ingredients in this Niçoise-style sandwich are a good match for soft, crusty ciabatta bread, but a French baguette that is not dense and chewy will do the trick too. Use good- quality tuna packed in oil, not water, or sub in chunks of freshly grilled tuna from my Grilled Tuna with Rémoulade Sauce. This is, for the most part, a classic make-ahead sandwich—traditionally, it is allowed time to marinate before serving—but if you're hungry and can't wait, it's just as delicious served straightaway.
Ingredients
1/4 cup crème fraîche or sour cream
1/2 cup fresh basil leaves, torn
Grated zest and juice of 2 lemons
Kosher salt and freshly ground black pepper
2 5-ounce cans tuna packed in olive oil, drained
1/4 cup pitted kalamata olives, coarsely chopped
2 tablespoons capers, drained and chopped
1 14-ounce loaf ciabatta bread, split horizontally
2 cups (not packed) arugula leaves
1 cup torn radicchio leaves
4 hard-boiled eggs, sliced
2 small Persian cucumbers or 1/2 English (hothouse) cucumber, thinly sliced lengthwise 
1/2 red onion, thinly sliced
Directions
Make-Ahead:
The sandwich can be made up to 2 hours ahead, wrapped in plastic, and refrigerated, to allow the flavors to marry.
In a food processor, combine the aïoli, crème fraîche, basil, and half the lemon zest and juice and process for about 20 seconds, or until the basil is coarsely chopped but not pureed. Season the basil mayonnaise to taste with salt and pepper.
In a small bowl, gently fold the tuna, olives, capers, and the remaining lemon zest and juice to combine, keeping the tuna in large chunks as much as possible.
Lay the ciabatta cut side up on a cutting board and spread the basil mayonnaise over both pieces. Scatter the arugula and radicchio over the bottom piece. Lay the slices of egg atop the lettuces and follow with the tuna mixture, cucumbers, and onion. Top with the other piece of bread. 
Cut into 4 sandwiches and serve.