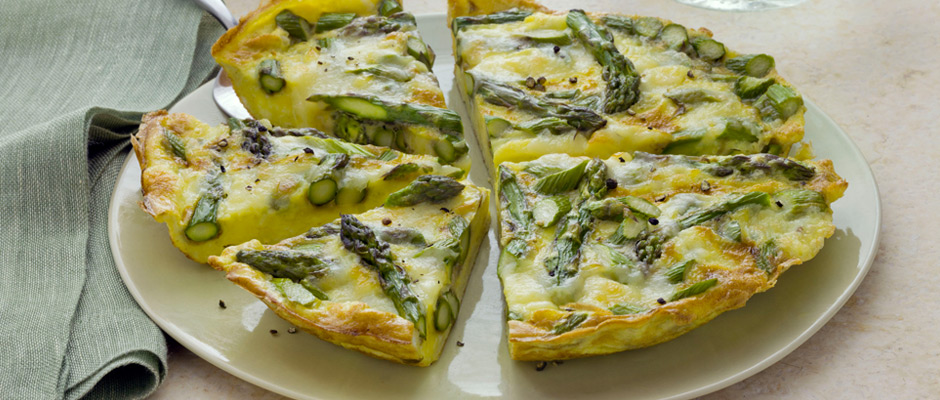 Ingredients
15 thin asparagus spears, tough ends trimmed
1/2 teaspoon freshly ground black pepper
1 tablespoon unsalted butter
2 ounces Fontina or Gouda cheese, shaved into thin slices 
Directions
Make-Ahead:
The asparagus and be cut and the cheese can be sliced up to 1 day ahead, 
covered separately and refrigerated.
Cut the asparagus tips into 3-inch lengths then cut the remaining asparagus stalks on a slight diagonal into 1/4-inch-thick slices. In a small bowl, toss the asparagus tips with the oil to coat. In a large bowl, whisk the eggs, salt, and pepper to blend well.
In a 12-inch-diameter nonstick ovenproof sauté pan over medium heat, melt the butter, swirling the pan to coat it with the butter. Add the asparagus slices and sauté 1 minute. Add the eggs and gently stir with a silicone spatula to lift the cooked egg off the bottom of the skillet and stir it into the uncooked portion (be careful not to over stir the omelet). As the omelet begins to set, have one last gentle stir then lay the cheese slices and asparagus tips over the omelet.
Place the pan under the broiler and cook for about 1 minute, or until the omelet is set on top and the cheese melts. Using a silicone spatula, loosen the omelet from the pan and slide it onto a platter. Cut the omelet into wedges and serve.
Alternatively, you can use two 10-inch-diameter nonstick ovenproof sauté pans to make 2 smaller omelets.
To make it easier to shave the cheese, place it in the freezer for 30 minutes before slicing it.
Other recipes you might like