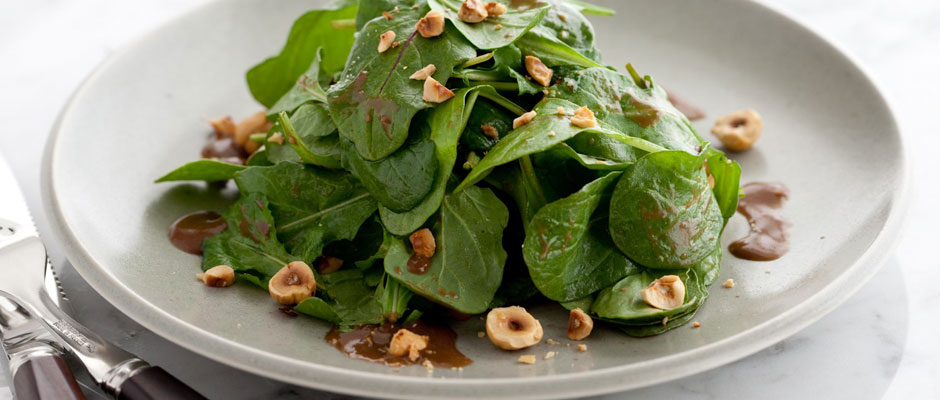 Arugula Salad with Balsamic Vinaigrette and Toasted Hazelnuts
Ingredients
1 shallot, coarsely chopped
1 tablespoon Dijon mustard
1 garlic clove, coarsely chopped 
4 tablespoons balsamic vinegar
Salt and freshly ground black pepper
Directions
Make-Ahead:
The hazelnuts and vinaigrette can be prepared 1 day ahead. Store the hazelnuts 
airtight at room temperature. Cover and refrigerate the vinaigrette, and then let the vinaigrette 
stand at room temperature for 15 minutes and rewhisk before using.
To prepare the hazelnuts:
Preheat the oven to 350°F. 
Toast the hazelnuts on a baking sheet until lightly golden brown, shaking the pan occasionally to jostle the nuts and ensure they cook evenly, about 10 minutes. Cool completely. Rub the hazelnuts between your palms to remove the dark skins from the nuts. Very coarsely chop the hazelnuts.
In a blender, blend the shallot, mustard, garlic, and 2 tablespoons of the vinegar until very finely chopped. Add the remaining 2 tablespoons of vinegar and blend until smooth. With the blender on low, slowly drizzle in the oil until emulsified. Season the vinaigrette to taste with salt and pepper.
In a large bowl, toss the arugula with enough vinaigrette to coat. Season to taste with 
salt and pepper. 
Mound the salad on 4 plates, dividing equally. Sprinkle with the hazelnuts and serve.
Other recipes you might like