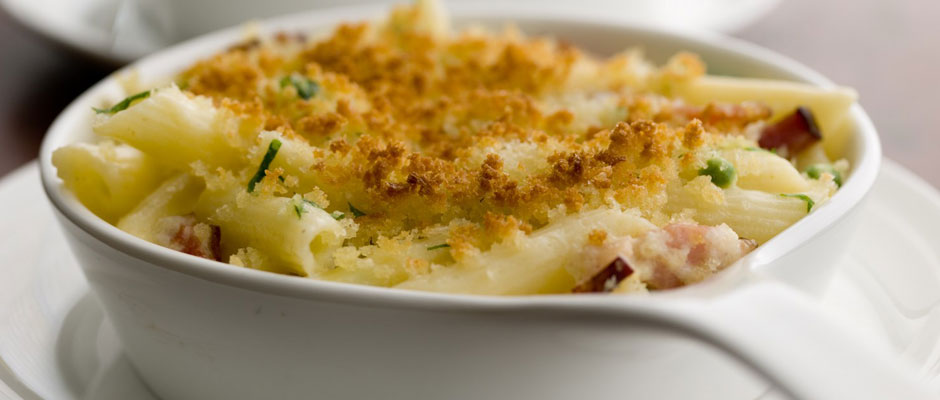 Ingredients
8 bacon slices, cut crosswise into 1/4-inch-wide strips
Salt and freshly ground black pepper
2 garlic cloves, finely chopped
2 tablespoons all purpose flour
6 ounces Gruyère cheese, grated (about 1 1/2 cups, lightly packed)
6 ounces Vermont white cheddar cheese, grated (about 1 1/2 cups, lightly packed)
1/2 cup (about 2 ounces) freshly grated Parmigiano-Reggiano
1 pound penne pasta or gemelli pasta
1 cup shelled fresh English peas (from about 1 pound unshelled English pea pods)
2 tablespoons chopped fresh flat leaf parsley
3/4 cup panko breadcrumbs
2 tablespoons unsalted butter, melted
Directions
Make-Ahead:
The sauce can be made, and the pasta and peas can be boiled 1 day ahead, cooled, covered separately, and refrigerated. Rewarm the sauce, covered, over medium-low heat before continuing.
In a heavy large saucepan, cook the bacon over medium-high heat until golden brown, about 5 minutes. Using a slotted spoon, transfer the bacon to a plate lined with paper towels and reserve. Pour off all but 2 tablespoons of bacon drippings.
Add the shallots to the bacon drippings. Sprinkle with salt and pepper and sauté until translucent, about 2 minutes. Add the garlic and sauté for 1 minute. Reduce the heat to medium-low and stir in the flour. Cook the flour for 1 minute, stirring constantly. Gradually whisk in the milk and cream. Bring the sauce to a simmer over medium heat, about 10 minutes. Reduce the heat to medium-low and gradually add the cheese, stirring to blend.
Meanwhile, to prepare the pasta and peas:
Bring a large pot of salted water to a boil over high heat. Cook the pasta in the boiling salted water for 8 minutes, stirring often to prevent it from sticking. Add the peas and continue boiling until the pasta is tender but still very firm to the bite and the peas are bright green and crisp-tender, about 1 minute. Drain the pasta and peas.
Stir the bacon, pasta, and peas into the cheese sauce. The sauce will look loose but will continue to thicken once the pasta is added. If the sauce begins to thicken too much, add more milk or cream to thin it to the desired consistency. Season to taste with salt and pepper.
Butter 8 individual 6-inch-diameter casserole dishes or one 2 1/2-quart casserole dish. Transfer the pasta to the buttered casserole dishes. Sprinkle the parsley over the pasta mixture then stir some of it into the pasta mixture.
In a small mixing bowl, toss the breadcrumbs with the melted butter to coat well. Season with salt and sprinkle the breadcrumbs evenly over the pasta. Broil until the topping is golden brown, watching closely, about 2 minutes.
Let stand at room temperature for 5 minutes before serving.