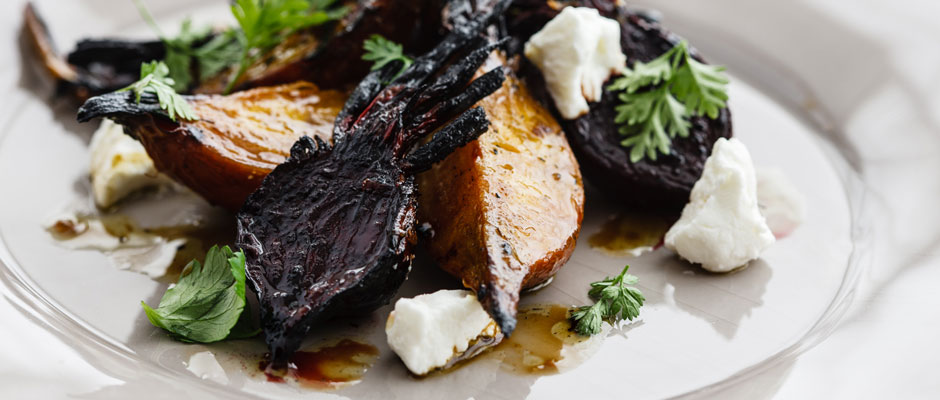 Grilled Beet Salad with Balsamic and Goat Cheese
Ingredients
16 baby red and golden beets, trimmed, leaving 1 inch of stems intact
2 tablespoons balsamic vinegar
1/2 teaspoon finely chopped fresh thyme
3 tablespoons extra-virgin olive oil
Salt and freshly ground black pepper
2 ounces good-quality goat cheese, crumbled
Fresh chervil leaves, for garnish
Directions
Make-Ahead:
The vinaigrette and marinated beets can be prepared 1 day ahead, covered separately and refrigerated. Let the vinaigrette stand at room temperature 15 minutes and rewhisk before using.
Cook the red and golden beets in separate medium saucepans of boiling water until almost tender, about 12 minutes. Drain.
Keep the beets separate so the red beets don't discolor the golden beets. Peel the beets then cut the smaller beets lengthwise in half and larger beets lengthwise into four wedges.
Finely grate 1 teaspoon of orange zest into a large bowl, then squeeze 1/4 cup of orange juice into the bowl. Whisk in the vinegar, garlic, and thyme.
Slowly drizzle in the oil and whisk to blend well. Season the vinaigrette to taste with salt and pepper.
To grill the beets and serve:
In separate medium bowls, toss the beets with the vinaigrette to coat. Marinate for at least 30 minutes, tossing occasionally.
Prepare a barbecue for medium heat.
Remove the beets from the vinaigrette; reserve the vinaigrette. Grill the beets until they are tender, turning as needed, about 10 minutes. Return the beets to the vinaigrette and toss to coat. Season to taste with salt and pepper.
Divide the beets among 4 plates. Crumble the goat cheese over the warm beets. Garnish with the chervil leaves. Drizzle some of the vinaigrette around the plate and serve.