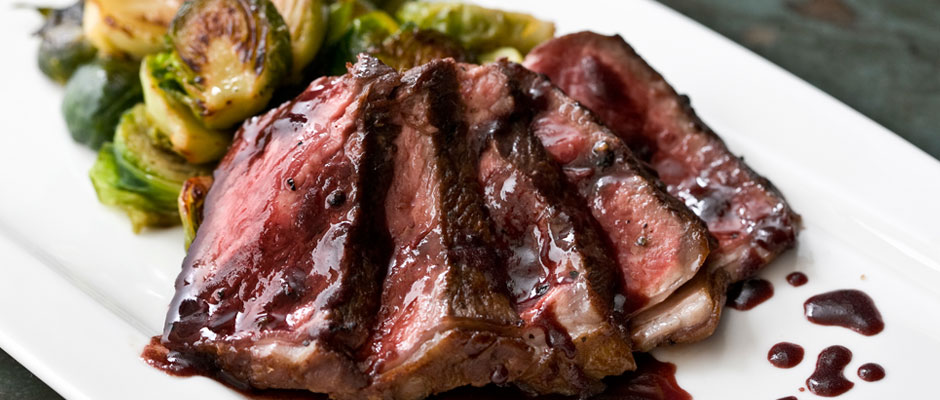 Grilled New York Strip with Caramelized Brussels Sprouts
Ingredients
1 tablespoon black peppercorns
Four 8-ounce New York strip steaks (each about 1-inch thick)
3/4 cup dry red wine, such as Cabernet Sauvignon
12 ounces fresh Brussels sprouts
Directions
Make-Ahead:
The Brussels sprouts can be boiled, cooled, and cut in half 1 day ahead, covered and refrigerated.
Preheat a large grill pan with high sides over high heat.
Using a Bump and Grind or another mortar and pestle, coarsely crush the peppercorns. Season both sides of the steaks generously with salt and sprinkle the coarsely crushed peppercorns over both sides of the steaks, patting to adhere. 
Using a sharp knife, score the fat that runs down the long side of the steaks.
Place the steaks, fat side down, on the grill pan and cook until the fat is golden brown and partially rendered, about 3 minutes. If your pan is not large enough to fit all four steaks without crowding them, cook 2 steaks at a time.
Grill both meaty sides of the steaks until cooked to desired doneness, about 3 minutes per side for medium-rare doneness. 
Add the wine to the pan and simmer 30 seconds. Transfer the steaks to a cutting board and let rest. Continue simmering the wine until it is reduced to 1/4 cup, about 4 minutes.
To prepare the Brussels sprouts:
Meanwhile, in a large pot of boiling salted water, cook the sprouts until bright green, about 3 minutes. 
Drain the Brussels sprouts and transfer them to a large bowl of ice water. When cool, remove the Brussels sprouts from the cold water, drain well, and cut them in half lengthwise. 
In a large sauté pan, melt the butter over medium-high heat until it is golden brown, about 2 minutes. Add the sprouts and increase the heat to high. Sauté until the Brussels sprouts are golden brown, about 5 minutes. Season to taste with salt.
Place the Brussels sprouts on plates. Slice the steaks diagonally across the grain and arrange the steak slices alongside the Brussels sprouts. Spoon the pan juices over the steaks and serve.